Image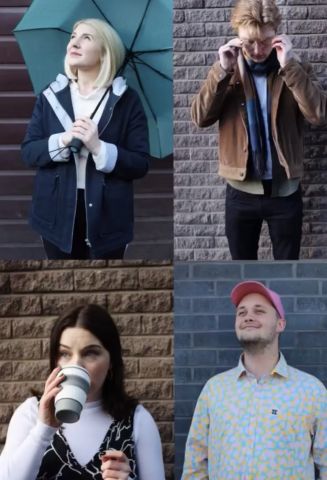 Production
Adam Gwon (music and lyrics), Jenny Tamplin (director), Steven Segaud (musical director),
Performers
Sarah Dingwall (Clair), Ethan Baird (Jason), Mhairi McCall (Deb), Joe Hunter (Warren)
All you really need to know about Ordinary Days is that it ended with confetti on the floor and the entire audience on their feet.
It's an ensemble piece about four New Yorkers just living their ordinary lives that begin to intersect ala Love Actually. The sung-through musical is 21 songs that are ultimately about finding happiness (which, if you've ever lived in NYC, you know it's no easy feat!)
There's Deb, the grad student whose thesis and big picture are all wrong. Warren, a struggling artist who is overly optimistic, Clair, who can't let go of the past, and Jason, who has found his happiness - but that happiness slips further away every day.
It took me a few songs to warm up, but once I was in it, I was in it. With every song, I loved the show (and its performers a little more), and I wasn't alone; the audience - which was packed - became more and more enthusiastic as the night went on, so much so that they gave an elongated standing ovation. 
This small cast packed a HUGE punch and deserved every bit of that applause. 
While Deb had the juiciest songs (and boy did McCall deliver on every single note of every song), Clair's arc - and Dingwall's portrayal of it - caught the audience the most. 
Hunter gave us a Warren that you want to love to hate but really just love, and Baird was the perfect boyfriend as Jason - so much so the row of teen girls behind me audibly sighed after every song. 
It is truly a shame they had such a limited run; this easily would have been one of the best-selling shows of the fringe this season.
tickets here
Aug 11-13 
Suitability: 14+ (Guideline)