Image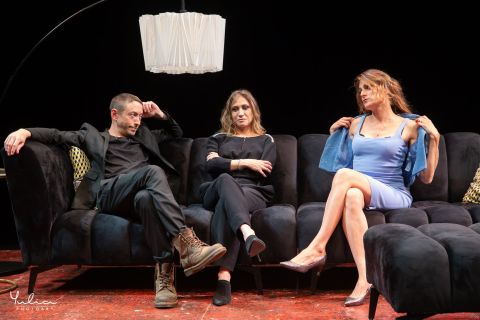 Production
Dafna Rubinstein (writer, director), Dafna Peretz (set design), Naom Sperber (music), Uri Rubinstein (lighting), Maayan Amzaleg (video director), Ben Levy (video photographer), Louize Green, Julia Photoart (still photography), Ishay Green, David Rappaport (production)
Performers
Noa Har-Zion (Hedda), Iftach Ophir (Tesman), Benny Elder (Lovborg), Sharon Burstein Bichach (Thea), Ben Perry (Brack)
'In Hedda Gabler, Henrik Ibsen gives us a typical tragedy of modern life, and in the strange, sensitive, selfish heroine, he presents one of the most wonderful and subtle conceptions of woman in the whole range of dramatic literature'.  Review in The Sunday Times, 1891
Hedda Gabler is a feminist play for today, from the 1890s to the 2020s and this cool, crisp contemporary adaptation illustrates once again Ibsen's timeless tragic tale.  
Hedda is the daughter of an aristocratic General, used to a luxury lifestyle but now trapped in a conventional marriage to an uninspiring academic, Jurgen Tesman. The setting is the living room of their new home -  sofa, cocktail bar, Buddha ornaments.  A large screen window shows video CCTV footage of visitors arriving at the front door. 
The updated narrative loosely follows the original story and main characters. Dressed in a kimono negligee Hedda swans around, seemingly bored and in petulant mood.  Tesman won't buy her a Bentley or a horse. Brack is an architect dressed in designer black, enchanted by Hedda's free spirited energy while she openly flirts with him.
Very much the party animal, slipping into a slinky black pantsuit, it's time for Negroni cocktails and snort a line of cocaine, lounging on the sofa -  'I shall die of boredom here.'
Her former lover, Ejlert Lovborg is an academic rival competing with Tesman for university tenure. Slightly nervous and as a former alcoholic, refuses a drink, unsure of Hedda's sly, secretive motives. Hedda's old school friend, Thea, works as his research assistant and is clearly smitten.   Hedda adores being at the centre of male attention, the three men buzzing like wasps around a honeypot. She plays manipulative, seductive games, fooling about with her late father's pistols; this lady is mad, bad and dangerous to know.
An imaginative device is to introduce Hedda as a young girl in pink party frock, gliding silently like a ghost across the stage while a few vital scenes of dramatic confrontation slip into unnecessary melodrama. This company of international actors from Tel Aviv each bring sharply observed performances with smart  'Scandinavian' precision.
Noa Har-Zion plays Hedda like a spoilt, entitled diva, a Hollywood superstar, who utilizes her beauty and wit for her passionate desires. She speaks with a slow drawl and deep tone of voice, her accent reminiscent of Ingrid Bergman, (Ilsa was a similar wily temptress in Casablanca). 
This is an intimate portrait of Hedda as a modern, desperate, decadent woman, her manic behaviour captured in moments of dark black humour.  Whether through jealousy, selfishness, a cruel streak or psychotic disorder, she has learnt to be in control and exert power over others, a General's daughter to the end. 
Showtimes: 15 – 27 August @ 12.30
Ticket prices: £12 (£10)
Suitability: 16 +