Image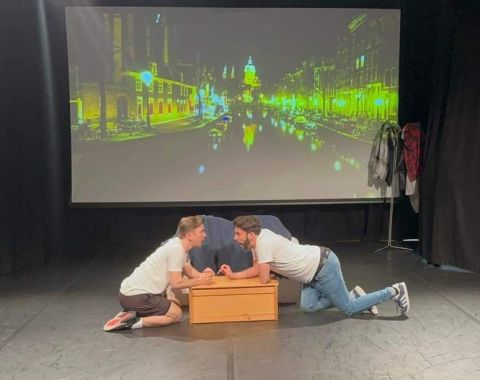 Company
Brown-Wilson Productions
Production
George Brown and James Wilson (writers / producers), Peter Mitchelson (technician).
Performers
George Brown (Michael) and James Wilson (Jack).
Michael is on one final adventure.  His childhood friend Jack is delivering his eulogy, citing a line from a favourite film The Return of the King; "No, the journey doesn't end here. Death is just another path... One that we all must take."
But it seems that it is not the end in a very palpable way as recently dead Michael appears, seemingly very much alive and ready for adventure.
Drained and grief-stricken Jack presumes that he might be having a breakdown but is willing to entertain the possibility of a ghost with a stash of cash and a bucket list of experiences.
The always together chums can travel, go skydiving, scuba diving and paragliding (the danger of extreme sports need only bother one of them). The list sees them take a grand tour to Paris, Amsterdam, Berlin, and Barcelona.  They see great art (with varying degrees of appreciation), have a stoned contemplation of what will happen when ostriches learn to fly, and drink beer at Oktoberfest. Confident Michael is determined to help Jack with the "chicas" and feeds him lines Cyrano de Bergerac style to impress waitress, Maria.
His deceased friend is not the only thing haunting Jack however, and their trip to Montserrat, a place of ghosts, will see whether it is possible to move on.
The play is fast paced as they act out their escapades and the performances manage to capture the emotion, while having fun with Michael's irrepressible nature. There are scene changes that achieve little and slow the action. 
It's all a bit blokey and not exactly original but overall, it's a fine bromance.
Show times – 5 to 13 August 2022 at 1.45pm.
Tickets - £9 (£7) to £13 (£11).
Suitability – 12+. (Contains distressing themes, Strong language/swearing).