Image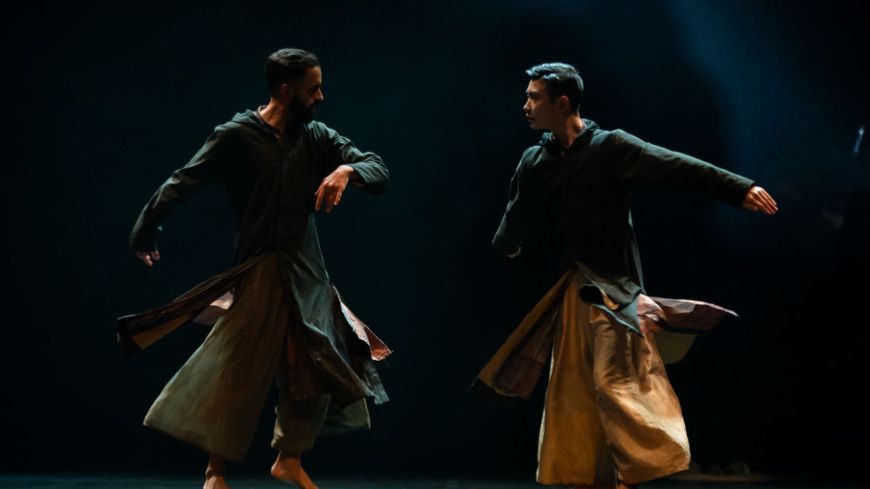 Company
Aakash Odedra Company
Production
Aakash Odedra and Hu Shenyuan (choreography), Anand Bhatt (producer), Nicki Wells (composer), Aakash Odedra & Nicki Wells with contribution from Hu Shenyuan (poetic text, songs) KH Lee (costumes), Lou Cope (Dramaturg), Yaron Abulafia (lighting), Tina Tzoka (set design), Salvatore Scoll (technical director).
Performers
Aakash Odedra, Hu Shenyuan, (dancers), Michael Ormiston, Beibei Wang, Nicki Wells (musicians, singers).
Samsara: (sanscrit) - The eternal cycle of birth, suffering, death and rebirth.
Samsara is inspired by Wu Cheng'en's 16th century Chinese novel 'Journey to the West', relating a fantastical tale of Hsüan-tsang, a monk travelling from India to China in quest of Buddhist scriptures. Comparable to Tolkien's 'Lord of the Rings,' it relates weird adventures and wild combats imbued with satirical humour and religious allegory.
This dramatic, dynamic collaboration between two renowned dancers, Aakash Odedra from India and Hu Shenyuan from China was created with no spoken language in common.  Through the silent choreographic language of movement, gesture and mime they capture the sense of a spiritual pilgrimage sharing ideas of Asian philosophy and culture.   
In shadowy darkness, the resonating sound of a bell rings out like the call to prayer.  As if dawn is breaking, a desert landscape is illuminated in a soft glow and in the spotlight, the silhouette of a hooded, cloaked monk. Hu Shenyuan crouches and curls up in a foetal position to denote his own birth and the start of the cycle of existence, the journey of life.
Accompanied by gentle percussive beat like a choral, humming chant, Mongalian throat singing evokes a tribal, spiritual mood.  Around the stage, sculptures placed in the mounds of sand are reminiscent of slender male statues by Giacametti and Gormley.
The dancers, now dressed in loose flowing trousers, glide gracefully in twists and turns, arms and legs stretching in slow, slow Tai Chi forms. As the drumming picks up pace they spin around, their bare feet following the beat like a tap dancing routine.  Facing each other in combat, they engage in martial arts with disciplined, delicate precision in their sparring self defence moves.
The ever shifting mystical soundscape of voice, drum and wind pipes echoes with an eerie dramatic ambience. Melodic songs based on the monks' impressionist thoughts about the journey performed by Nicki Wells in Indian and Chinese languages, have the tone and tempo of Gaelic waulking tunes.
The dancers embrace each other, limbs entwined and combined in the lotus position reaching out their four arms in the symbolic image of Vishnu. Then with lithe physical agility, Shenyuan raises one leg straight up in the air, posing with such elegant poise. 
Samsara takes us on an sensual, spiritual pilgrimage through painterly scenes of light and shadow with a visual, meditative sense of peace and harmony. Sand falls from the sky like a rain storm. The passing of time.  Their journey ends.
Expressing the artistic beauty of the human body like balletic sculptural figures, Aakash Odedra and Hu Shenyuan create a beautiful, hypnotic emotional experience.
Showtimes: 18 – 19 August @ 8pm. 20 August @ 5pm
Ticket prices, £ 21- £26 (concessions available)
https://www.eif.co.uk/events/samsara