Image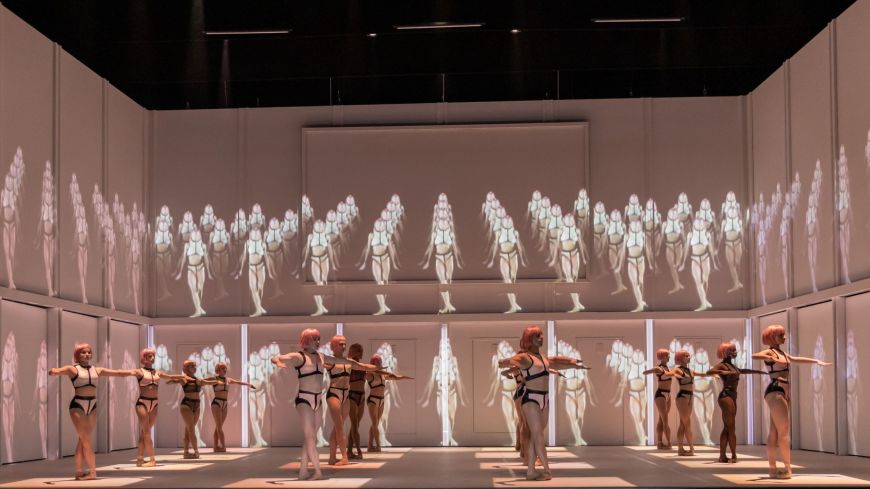 Production
Morgann Runacre-Temple & Jessica Wright (direction and choreography), Jeff James (dramaturg & written text), Leo Delibes, Mikael Karlsson, Michael Atkinson (music), Bengt Gomer (lighting), Will Duke (projection and video), Annemarie Woods (costumes).
Performers
Constance Devernay-Laurence (Swanhilda), Bruno Micchiardi (Doctor Coppelius), Simon Schilgen (Franz), Rimbaud Patron (live cameraman). The Ensemble of Scottish Ballet; Scottish Ballet Orchestra, conductor, Jean-Claude Picard
The comic ballet, Coppélia by Delibes, first staged in Paris, 1870, relates the story of Doctor Coppélius, whose life-sized mechanical doll captivates a young man, Franz much to the anguish of his girlfriend, Swanhilda.  
In this brilliantly imaginative, modern day revamp, Dr. Coppélius, an entrepreneur in Silicon Valley, has invented an automaton of artificial intelligence, Coppélia.  Directors and choreographers Morgann Runacre-Temple and Jessica Wright collaborated with Scottish Ballet on 'The Secret Theatre', which won best dance film 2021. 'A fairytale ballet blended with fantastical Narnia and Toy Story-style vision, childlike imagination & Disneyesque wizardry." (Edinburgh Guide review).
Here we enter the wizardry world of NuLife, a laboratory of white walls, doors and scientists in white coats - 'reinventing humanity' is their slogan.  Swanhilda, an investigative journalist, with her partner, Franz, visit NuLife to interview Dr Coppélius, (dressed Steve Jobs style, black turtleneck, Levi's 501®s jeans, New Balance sneakers), who presents the futuristic robot with a digital image of his creation, Coppélia who can be 3D printed into life. 
Through live performance on stage superimposed with interactive film footage and voice over narrative, the multi layered action is simply stunning and totally immersive. As Swanhilda interrogates the inventor about the ethics of his AI work, their distanced, dramatic pas de deux over and around a desk in a small office is slickly choreographed.
When Swanhilda and Franz later sneak around the laboratory to find out more, Franz is mesmerised by the visionary beauty of Coppélia - as we are by the appearance of a rather terrifying troupe of marching mechanoid women. With glossy pink hair and moulded armoury costume, these digital Wonder Women are like a cross between the cute Leeloo, in The Fifth Element and EDI in the Mass Effect video game.
Delibes' ballet music features the Danse des Automatons and Waltz, to create stylised, sleek sharp moves with clockwork precision. These original melodies are interspersed with a reinvented score by composers Karlsson and Atkinson, jazzing up folk dances and mazurkas in a bold, brash soundscape with electronic beat.
In solo work and ensemble line ups, the dance sequences are all jagged gestures, extended long limbs and ritualistic robotic rhythm. The power of the live performance is duplicated by several dozen animated automata on a giant screen like an exhilarating horror movie.    
When Swanhilda magically embodies herself as the Coppélia, only she is able to imbue true, human emotion as opposed to NuLife's AI alternative to reality.  Dr. Coppélius asks 'Do you derive more pleasure from running your finger over your lover's skin, or across the glass surface of a phone?' 
This 21st version of the ballet creates a dark psychological fantasy, a story of infatuation, mechanisation and domination, questioning the ethical future of technology, adapting DNA, cloning and humanoid robots.  
Always fresh, radical and ambitious with their creative multimedia concepts, Scottish Ballet has again broken new boundaries in the art of theatricality:  this is a surreal, sci fi dance-drama-movie spectacle with experimental, electrifying, aesthetic vision.    
Showtimes:
14 – 16 August, 2022
EIF run ended.
Autumn tour in Scotland - https://www.scottishballet.co.uk/event/coppelia