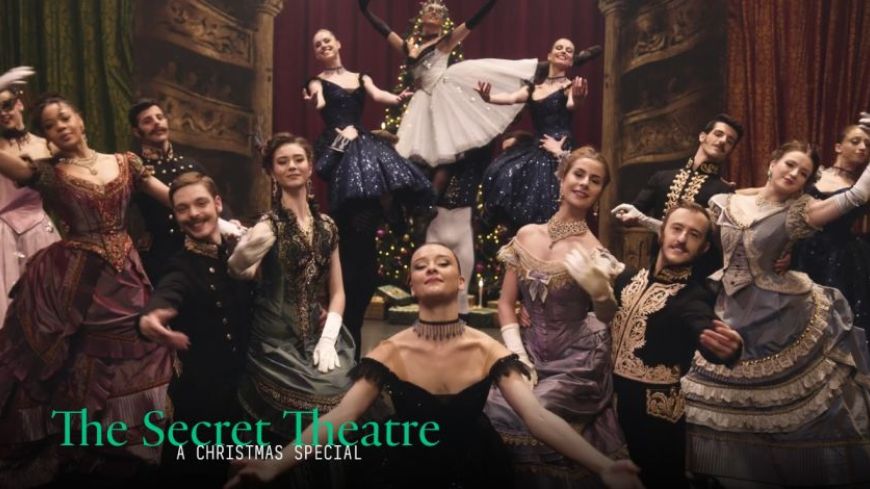 Production
Christopher Hampson & Lez Brotherston (creators), Christopher Hampson and Peter Darrell (choreography), Jessica Wright and Morgann Runacre-Temple (Screen directors), Lez Brotherston (designer), David Liddell (director of photography), Beth Allen (producer, Forest of Black), Rimsky Korsakov & Tchaikovsky (music).
Performers
Leo Tetteh (Leo), Alice Kawalek (Lexi), Catherine Devernay (The Snow Queen), Bruno Micchiardi (Ringmaster), Jerome Anthony Barnes (The Nutcracker Prince), Sophie Martin (Sugar Plum Fairy), Christopher Harrison (Zac), Grace Horler (Mazelda); Plus principals and members of Scottish Ballet as clowns, acrobats, fairytale characters and dancers. The Scottish Ballet Orchestra
Every year, Scottish Ballet kickstarts Christmas entertainment, staging sixty-eight performances of a Festive ballet around six cities from early December to February. Sadly, it has now been nine months since all theatres closed and to reflect the company's artistic commitment for creativity and performance, the Artistic Director, Christopher Hampson decided that the show must go on. 
The world premiere of Scottish Ballet's first, full-length, feature film "The Secret Theatre"  can be viewed in the comfort and safety of your own home from Monday 21st December.
The enchanting story is about a little boy, Leo, who embarks on a fantastical adventure, as kicks his football along a city street until it hits an old door, which opens with a screech; like Alice falling down the rabbit hole, he steps inside the auditorium of a grand Victorian theatre, its rows of plush red seats empty and in darkness.
The curtain opens and he ventures backstage, where suddenly, amidst a clutter of costumes and props, a cast of clowns, acrobats and colourful characters from The Nutcracker and The Snow Queen, spring into life. They are the forgotten, dusty ghosts of Christmas past, hidden in the wings of this secret Theatre.
Jumping out of a box is Lexi, (aka, the Summer Princess in The Snow Queen) who guides Leo into a magical mash-up of fairy tales, featuring the Sugar Plum Fairy, Nutcracker Prince, Snow wolves, Jack Frosts and dazzling white Snowflakes.
Leo is spellbound, his wide eyes full of joy and wonder as we follow his rollercoaster ride through snapshot scenes, moving swiftly between the Circus, Roma Camp, Ice Kingdom and a glamorous, glittering Christmas Eve party.
The graceful, playful choreography by Christopher Hampson and Peter Darrell, flow together seamlessly to the scores of Rimsky-Korsakov and Tchaikovsky - the glorious music recorded live by the Scottish Ballet Orchestra. 
Instead of simply filming a staged production, The Secret Theatre is a genuine work of cinematography set in outdoor locations, the Tramway, the King's Theatres in Glasgow and Edinburgh. Creative camera work and special effects too – disappearing dancers, flying white drapes and a magic carpet with Disneyesque wizardry.
The spectacle is captured through the camera lens, observing every swirling step and pirouetting pas de deux, with all the fabulous costumes in such fine detail.  The superlative performances are all the more dramatic due to the stunning close ups such as The Snow Queen, with her ice-blue lips and the prancing peacock of a Ringmaster in his feathered top hat. 
This is pure theatre on screen, blending two classical Fairytale ballets with fantastical Narnia and Toy Story-style vision and childlike imagination, all the way to the last magical, tearjerker moment.   
While nothing beats seeing Scottish Ballet live, their heart-warming movie is the perfect, essential, Festive treat for 2020 which will appeal to all ages.  Book your free tickets now.!
The World premiere of The Secret Theatre is screened on Monday 21 December at 6pm.
The Secret Theatre - 21st to 24th December, 2020
Tickets are free and must be booked in advance on the website.
https://www.scottishballet.co.uk/event/the-secret-theatre
Donations are welcome to support Scottish Ballet and local theatres. There is an accompanying programme, as well as a series of talks and workshops.