Image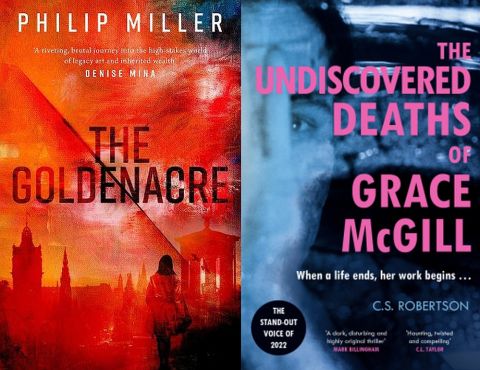 Company
Edinburgh International Book Festival
Performers
Philip Miller, C. S. Robertson and Viv Groscop (chair)
Philip Miller was previously the Arts Correspondent for The Scotsman, The Sunday Times and The Herald, twice named Arts Writer of the Year. Now a civil servant, he also writes poetry and crime fiction.  A former journalist too, Craig Robertson had a 20 year career with a Scottish Sunday newspaper reporting on major stories, including 9/11, Dunblane and the disappearance of Madeleine McCann, before becoming a full-time author.
Viv Groscop, (writer, comedian, TV and radio presenter), introduces this event in witty style: ' The Wee Red Bar is a suitably dark, intimate space for a chat about grisly murder!'
Reminiscent of the thrilling art investigation BBC TV series, 'Fake or Fortune,' Miller's crime novel, The Goldenacre revolves around an official art historian, Thomas Tallis who has been sent to Edinburgh to authenticate a watercolour reputed to be by Charles Rennie Mackintosh, recently gifted to the nation in lieu of inheritance tax.  A second narrative thread follows Shona Sandison, a newspaper reporter investigating the murder of an eminent local artist.
With the chilling title, The Undiscovered Deaths of Grace McGill relates the gruesome task of deep cleaning the homes of deceased residents whose decomposed bodies lie undetected for several weeks or months. For Grace, death is not the end, it's only the beginning. In her mid thirties, she leads a solitary life and takes an interest in these tragic cases of lonely lives and unnoticed, apparently natural, deaths.
Viv Groscop starts the conversation with the fact that both writers were journalists in Glasgow, a strong background in hard evidence, facts and truth. Craig Robertson describes Grace as a kind of forensic scientist, an amateur detective who looks for clues as she clears out the abandoned clutter with emotional detachment.  The idea for the novel was sparked by the true story of many elderly people in Japan being found dead, unloved and alone.
With his professional, critical knowledge of the subject, Philip Miller is fascinated by art history; while The Goldenacre is not an actual painting by Rennie Mackintosh, it's based on a long lost work by his wife, Margaret, The Silver Apples of the Moon (1912). It was fortunately rediscovered in a private Italian collection and sold in 2011 at Christies for £115,250.  Art research was assisted by reading the eminent studies of Mackintosh's watercolours and design by Roger Billcliffe.  
Both writers describe how they like to instil a sense of place, for Craig it's Glasgow, describing real places, streets, pubs, a city of contrasts, wealthy and poor.  He likes to map out the entire story and create truthful characters –and Grace was interestingly, and most effectively, changed from a third person narrative to first person, to present her personal point of view:  
'I turn the key and push the door open slowly.  The hallway is a sea of mail and fast food flyers. This is what you get when time stands still, when no one knows or cares that there's no longer anyone at home. Letters and guilt-etched Christmas cards from people who can't find the find the time to call or visit. It was a water leak that brought people to the door. A student called his landlord. Three visits to Mr Agnew's flat brought no response so the police found the old man dead in bed.  I start as always with an appraisal of the property, moving quietly through the flat. It's my job. I am a lonely death cleaner."
Philip adds fictional elements to his description of Edinburgh such as it's the Public Gallery (not the NGS) but the action does roam around the city to real districts from Stockbridge to Portobello.  His literary influences are Raymond Chandler and Georges Simenon, putting together a complex jigsaw of the plot to piece together the finished picture:
"Tallis walked to the tall window. The view was wide and deep. In the parkland outside, the trees gently swayed, their leaves glinting with wet light.  With a slap, Carver lifted a pale folder onto the table, Mackintosh written in red on a white sticker. 'The Goldenacre' for us, is no mere new acquisition. This is a matter of great and urgent importance.  Its provenance is well documented but we need your good graces for the painting to be transferred to us. Your check is the last full stop in a wonderful sentence, Thomas. 'The Goldenacre', the last masterpiece of a Scottish icon is the property of the Public Gallery of Edinburgh'."
Unlike most Book Festival events, neither author read a passage from their novels which was a shame: it's important to appreciate the literary style and nuance of language to give a voice to the intriguing characters. Miller and Robertson have composed totally different settings, societies and storyline, yet share quietly atmospheric, precisely plotted and richly layered narratives in two masterly, page turning, murder mysteries.  
The Goldenacre: Philip Miller is published by Polygon
The Undiscovered Deaths of Grace McGill: C. S. Robertson is published by Hodder
The Edinburgh International Book Festival event took place on 23rd August, 2022