Image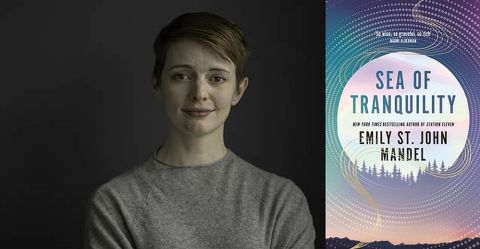 Performers
Emily St.John Mandel (in conversation with Heather Parry)
"This feels like such a dream" Emily St. John Mandel declares as she takes to the stage with Heather Parry.
She was here in pre-pandemic 2015 which now feels so long ago, "a lost world". Or perhaps a parallel world, as she is here to talk about her newest book Sea of Tranquillity, which spans time and investigates the idea of parallel worlds and possibilities.  She comments that the book moves around in time as it was written in 2020 when we were "all a little insane".
She prefaces reading from the novel by quoting Saleem Sinai, narrator and protagonist of Salman Rushdie's Midnight's Children "to understand one life you have to swallow the world". 
The novel opens in 1912 with "Edwin St. John St. Andrew, eighteen years old, hauling the weight of his double-sainted name across the Atlantic by steamship, eyes narrowed against the wind on the upper deck: he holds the railing with gloved hands, impatient for a glimpse of the unknown, trying to discern something - anything! - beyond sea and sky, but all he sees are shades of endless grey.  He's on his way to a different world." "In a flash of wild optimism, Edwin has his occupation recorded as "farmer" on the ship's manifest. It occurs to him later, in a contemplative moment out on deck, that he's never so much as touched a spade."
Mandel comments that she finds writing English characters difficult and without the help of her editor she would still be calling a spade a shovel.
Sea of Tranquillity is the first novel where she has known the structure at the start.  She normally starts with a scene and switches, but writing did start with the 2203 Last Book Tour on Earth, partly based on her occasionally surreal interactions during the 14 months, 127 event Station Eleven tour, filtered through a sci-fi lens.
The pandemic hitting New York City in 2020 she describes as "apocalyptic", the constant maddening sounds of sirens driving her to the maximum escapism of writing the novel. It was she says fascinating to know what was coming but to see the public not quite believe it, to be blasé – "a mass failure of imagination".  She perceived the climate crisis in a similar way, but questions why leaders are not acting.
In her work she "wants to strip away extraneous content", but that is perhaps not the reason for her approach to writing about time travel, "Just don't go into detail" she advises and advocates glossing over theoretical physics. A quantum block chain is just transport – you don't need to know how it works.
Her preferred future is neither utopian or dystopian but somewhere in the middle where it feels human and a "bit beat up and janky".  She takes no firm stance on the notion that we are living in a simulation. The ability of colonisers (her ancestors included) not to see the truth could be argued to be like a simulation.
She finds the idea of multiverses attractive (she is a fan of David Mitchell) and characters can be expected to continue to appear over several books; just don't hope for a return of Elizabeth from Station Eleven, whom she found "intolerable".
Time travel is all around us as the world in which a book is written is already ended, it just happens too slowly to be noticed unless telescoped by major events like pandemics or world wars. 
In this world one hour is just too short to discuss all the possibilities.
Event Time: 20 August 2022 at 4.30pm. Available on-demand until 11:59pm on Friday 30 September 2022.
Tickets: £14 (£12) (online - pay what you can).
Presented In association with Spotlight Canada (High Commission of Canada in the UK)