Image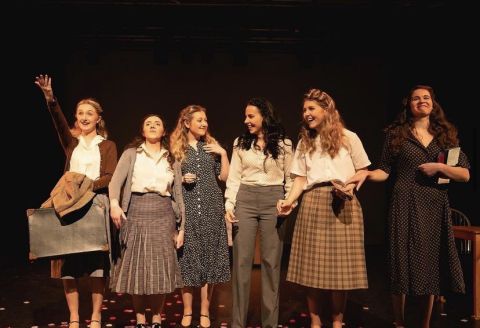 Company
ChopLogic Productions
Performers
Charlotte Fenning (Josephine), Amber-May Hutton (Dorothy), Lisa Hazel-White (Rita), Martha Morris (Ida), Tabitha Radcliffe (Florence), Katie Damer (Blanche)
Throughout history, women have done incredible things that have changed the course of the world, only for their stories to be untold or forgotten; one of the best examples is Bletchley Park. 
Dots and Dashes: A Bletchley Park Musical is here to ensure that doesn't happen anymore.
They tell the beautiful story of six women with haunting six-part melodies, an incredible use of movement and physicality, and well-injected humour and wit.
Each woman had a specific skill set: translating morse code, decoding the messages, translating them from foreign languages into English, and plotting enemy ships on the map.
Together they worked like a machine to fight the enemy, knowing they were saving lives - and that every mistake was a potential life lost.
Dots and Dashes also gave us a look into the lives of these fictional women that plagued the real women of that time; an unplanned pregnancy, the inability to come out of the closet, a husband who doesn't allow his wife to work, and a loved one lost to the war.
This interwoven aspect makes us remember that this was real - and recent history; when the work needed doing, the women gladly stepped up to do their bit.
The songs (which are available on Spotify) were the show's crowning glory. The perfect blend of upbeat, fun, and poignantly heartbreaking, they expressed everything the decoders endured.
I've not been able to stop thinking about it since I saw the show and hope they bring it back next year so I can see it again. 
Tickets here
Aug 22-28 | 20:30
Suitability: 12+ (Guideline)