Image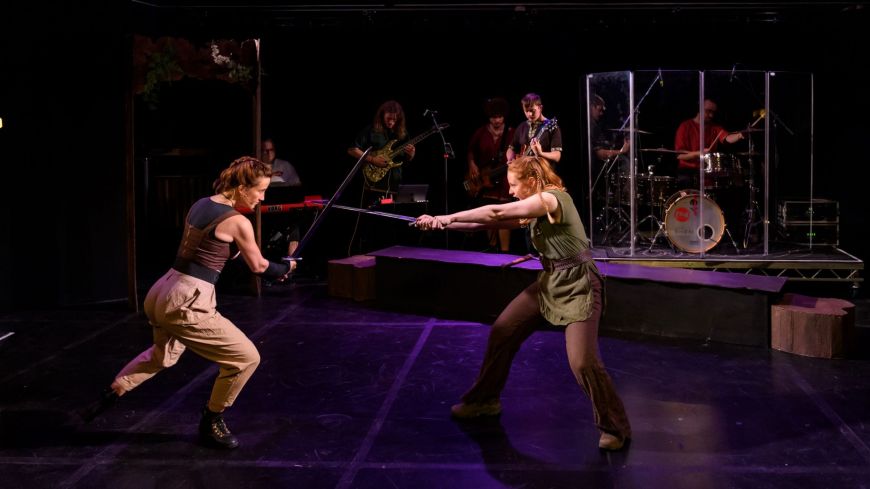 Company
VNM Musicals / Graham & Townley Productions
Production
Marcus Wood (composer and co-lyricist), Nathan Rees (book writer and co-lyricist), Vicky Clubb (orchestrator/ arranger), Stephen Graham (associate producer), Hilary Townley (associate producer)
Performers
Brianne Surgeoner (Gunilla), Cameron Carlson (Einar/Leif), Halldora Thoell (Mother Frigga/ Freja/ Priestess), Kathryn Taylor-Gears (Ingrid), India Shaw-Smith (Magnhild), Ed Tunningley (King Ove / Jarl Omund), Marcus Wood (Thor), Nathan Rees (Loki), Vicky Clubb (MD and keyboards), Tom Chambers (drums), Liam Stephenson (guitar), Marcus Wood (bass), Nathan Rees (rhythm guitar)
With driving rhythm and mystic Scandinavian melody, the people of Birka tell you a story of a 900AD kingdom in a changing of guard. Its ruler has been slain, and now two sisters grapple for power, butting heads on how best to lead all while under the rebellious, watchful eye of teenage Norse gods. With an impending invasion and troubles of the heart at play, what casualties will the townsfolk and fresh Yarl of tiny Birka endure to secure their city?
Halldora Thoell opens the piece with a beautiful, piercing soprano solo and continues to be a delight throughout the production in her multiple roles as Mother Frigga, Freja and The Priestess who calls the fallen home to Asgard. The chemistry between sisters Ingrid (Kathryn Taylor-Gears) and Magnhild (India Shaw-Smith) is fervent, one of the strongest elements of the piece. Cameron Carlson as dual characters Einar and Leif is heart-capturing; the entire ensemble is -  a very passionate cast indeed. Loki (Nathan Rees) and Thor (Marcus Wood) succeed as the comic relief, their actor-muso appearances employed as narrative transition between the scenes, rocking out on guitar and bass and acting up in equal measure. 
Singing while mid stage combat/ sword fighting is skilled and novel, something not seen much in the realm of musical theatre; as an obvious USP, the impressive combination should be kept throughout the coming developments of the musical, but perhaps revisited in terms of how it is executed. Could it feature under more sustained vowels? Full lyrics over this make it hard to understand what is being said, a muddling that happens too often throughout this iteration of the musical. 
Blóðlína: The Viking Musical is bursting with diverse talent and energy along with a unique point of view. As a proof of concept this new work certainly has legs to take on bigger conquests as a musical marvel to come.
29 Aug | 13:30
Suitability 8+