Image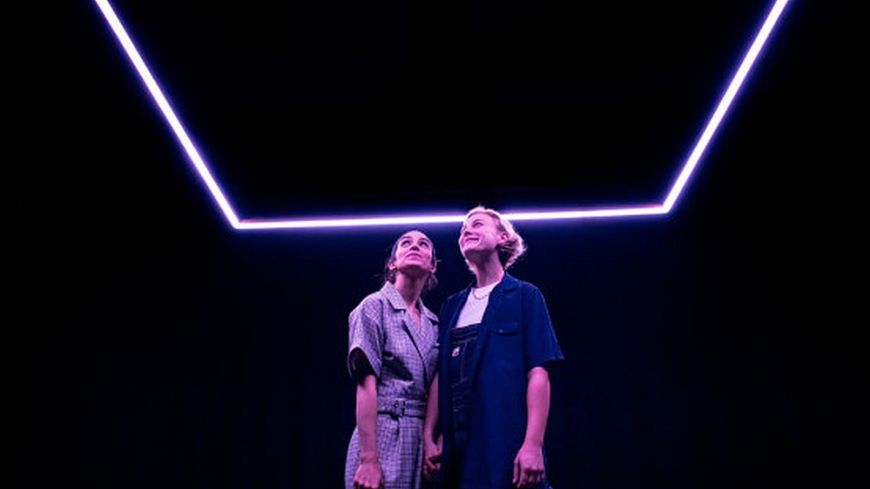 Company
Bill's Mother in association with Beth Shouler and Nic Doodson Productions.
Production
Ben Norris (writer) Sean Linnen (director), Holy Ellis (lighting designer), Annie May Fletcher (sound designer), Hayley Chilvers (movement director), Beth Shouler and Nic Doodson (co-producers), Molly Goodison (stage manager).
Performers
Cassie Bradley (Rowan), Hannah van der Westhuysen (Nic).
Rowan and Nic are determining a version of the truth to tell a prospective landlord.
They are both a long way off the Holy Grail of being able to buy a two-room property in London, with Nic living in a freezing hovel otherwise known as a "shared studio space" and Rowan residing in suburban Edgeware with an awful man-child.
Nic is a somewhat self-deprecating illustrator of book covers, guides, and satirical cartoons while Rowan is a scientist and weirdo digital cartographer, geospatial engineer who maps the world and is working on self-driving cars. The current project hurdle lies in determining the autopilot's decision to save a pedestrian or the driver in a crash.
They are clearly coming from different directions, and they collide as Nic wears her liberal politics and causes on her sleeve while Rowan is driven more by necessity than moral principles.  Issues of choices, contradictions and social responsibility are raised over property ownership, babies, and peanut butter. 
They are neither necessarily the people they project, and both are driven by partially concealed pasts.  Preconceptions will need to be set aside if their love is to survive.  
The play is nonlinear as we are presented with slivers of conversation and interaction between the two over a period of time. It's a roadmap to their relationship rather than a defined route, but the fast-moving changes are well signposted with sound and lighting.
With simple Alexa inspired staging a lot of the focus is on the well-directed movement as they stalk each other at a distance, exploring and negotiating boundaries as they try to know each other.  Even sensual massages are at more than arm's length.
Acted with great chemistry, the production feels fresh and current.
A sharply interesting look at navigating life, impulses of the heart and the head, compromise and how we deal with blame.
Show Times: 3 to 29 (not 15) August 2022 at 1.35pm.
Tickets: £7.50 to £15 (£13).
Suitability: 14+.  Contains mention of death, parental bereavement, and strong language, flashing lights and haze.