Image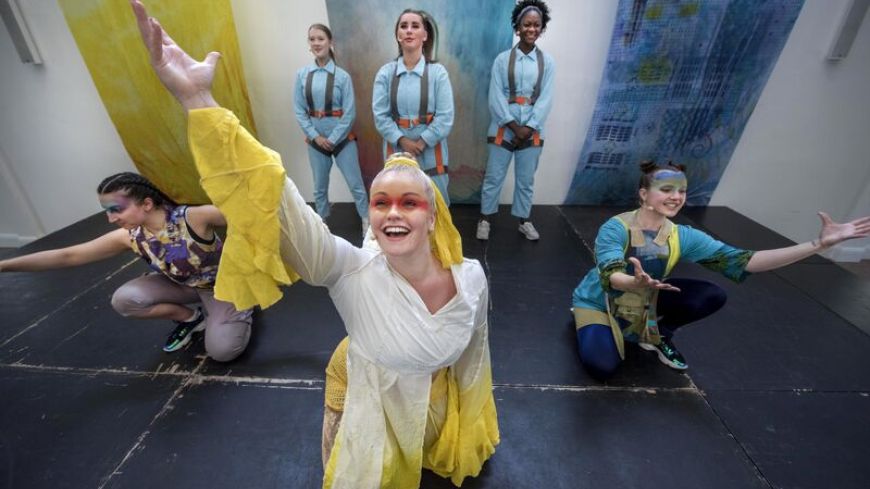 Company
Food Tank, House of Jack and World Food Program USA
Production
Bernard Pollack (co-founder and chair of Food Tank), Becky Enoch (co-director), Simon Hanson (musical director), Alexandra Lort Phillips (local creative producer), Tom Sergeant (production manager), Rosamund McCormack (costume design), Catherine Idle (stage manager), House of Jack: Becky Enough and Ashley Jack (co-director and choreography), David Peterson (linguist), Mary Page Nance (choreography), Rocky Dawuni (music)
Performers
Betty Valencia, Caitlin Anderson, Ella Gilling, Emmanuella Damptey, Sophie Douglas and Stefanie Eadie.
My first Fringe show since 2019 kicked off with WeCameToDance, which is billed as an intergalactic, interactive and immersive musical that aims to inspire its audience into becoming active participants (literally) in the movement against climate change. The experience is akin to a theatrical, upbeat Zumba class mixed with signature offbeat-Fringe-show originality - quite a way to mark the momentous occasion of returning the Fringe in person after such a long spell of darkness. 
This otherworldly adventure tells the story of extra-terrestrials who have arrived on our plant to warn Earthlings about the climate crisis, the likes of which they have already experienced on their home exoplanet. WeCameToDance takes you into a rhythmic, musical exchange with these beings and the human scientists that brought them back to Earth following the exploration of what they call "Trappist 1D", but what the aliens call "Hanyana". The show was originally supposed to debut off-Broadway in June 2020 but was cancelled due to the pandemic and, despite the obstacles, this American import has made it to the Edinburgh Fringe!
The production boasts impressive credentials: music by Grammy nominee Rocky Dawuni, Tony award-winning choreographers and alien language created by the linguists behind Game of Thrones' Dothraki; however, these accolades don't necessarily aid the production's ambitious goal of bringing its numerable themes into cohesion. With WeCameToDance, you have a novice dance class, imaginative narratives, charming music, enthusiastic performers and a serious activist message in the lyrics and script, but participants may find it difficult to fully appreciate all of the individual elements and activist aims of this production when combined in this way. 
That being said, if this team created another Zumba-esque, theatrical, activist experience, I would definitely get myself a ticket. If the term "interactive" sparks feelings of insecurity around COVID precautions, have no fear - WeCameToDance has expertly designed this experience to be safe and fun, with socially-distanced boxes clearly outlined on the floor in which your individual bubbles can dance and with attendants directing audience members along the way. Definitely bring the kids to this joyful rhythm, song and dance event; they will love this!
This engaging 30-min show is on at Nicolson Square Edinburgh (Fringe venue 209), running throughout the entire festival: 6-7, 10-14, 17-21, 24-28 Aug
Tuesday - Thursday: 15:30 and 17:30
Friday and Saturday: 15:30, 17:30 and 19:00
More information and tickets: https://tickets.edfringe.com/whats-on/wecametodance-1