Image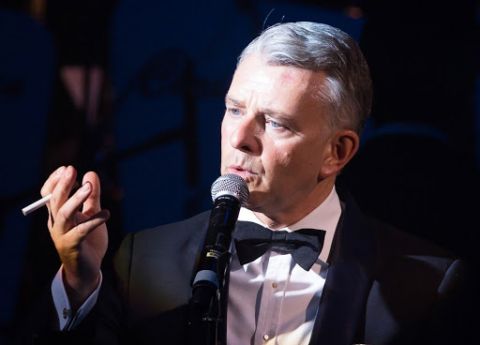 Company
Seabright Productions
Production
Richard Shelton (writer)
Performers
Richard Shelton
'Frank Sinatra' is back in town for what may be his final gig before he faces his final curtain as he contemplates retirement. The year is 1971, the setting, The Purple Room, Palm Springs, California.  
Richard Shelton has won numerous awards as the world's leading dramatic interpreter of Frank Sinatra. On stage, the pianist takes his seat and Frankie, in an immaculate Tuxedo, emerges from the wings, launching into the bittersweet song, All or Nothing at All.
Half a love, never appealed to me
If your heart, never could yield to me
Then I'd rather have nothing at all
This sets the nostalgic tone for the show, 'Sinatra:Raw' – a time for reflection on love, loss and regrets through an outstanding musical career. He welcomes the audience to the Purple Room – waving at his friends, Cary Grant and Sophia Loren in the front row – 'you play here on the way up and then again on the way down,' trying to be upbeat, yet realising that his stardom is losing its shine in the modern wave of rock 'n roll.
Then a delicious rendition of the timeless ballad, I've Got You Under my Skin, written by Cole Porter in 1936.  Twenty years later, in a big band arrangement by Nelson Riddle, Sinatra recorded this for 'Songs for Swingin' Lovers,' a smash hit album.
On the table beside his stool is a bottle of Jack Daniel's "Do you mind if I have a drink?" he asks politely and takes the first of numerous sips through the show. Sinatra's vocal range was  described as a Bourbon Baritone because of his love of the spirit. (A misnomer as JD is actually a Tennessee Whiskey).
Through memories and anecdotes, he reminisces on his family, friends, women, music and movie success, the wonderful days with the Rat Pack in Vegas. But it was a struggle to get there. His father said he was a "no good bum" and sent him to work as a rivet cutter, but music was his blood and he became a singing waiter leading on to be the main attraction with the Tommy Dorsey Orchestra.  
Cue the song, It Was a Very Good Year which relates a poignant journey through a man's life from 17 to 35 +.  'I'm in the autumn of my years, And now I think of my life as vintage wine.' 
We hear the story of how he was besotted by Ava Gardner, with whom he had an adulterous affair leading to the break up of his marriage to Nancy. With no piano accompaniment, Shelton sings Foolish Heart –  a soulful, mellow voice with such purity of tone.
The cabaret repertoire includes a fine selection of romantic favouries and as this is a farewell concert we are invited to suggest an encore or two - perhaps Fly Me to the Moon,  In the Wee Small Hours of the Morning and My Way.  In every classic number, Shelton excels with perfect phrasing, timing, clarity of diction, the poetic lyrics coloured with dramatic insight and raw emotion. 
"My job as an actor is to emulate the essence and evoke the spirit of Sinatra. I want the audience to walk away saying "I feel like I've just spent an evening with Frank Sinatra." If they do that, then I have done my job." Richard Shelton.
At the Purple Room (aka Pleasance @ EICC) order a drink at the bar and settle down to an exemplary, smoothly-polished, world class performance. An evening in the company of Frank Sinatra, indeed.
Show times:
Pleasance at the EICC
6th to 15th August (not 11th) @ 8.00pm (9.00pm)
Ticket prices: £ 15/ £13 (concession)- Tuesday 10th  2 for 1 offer.