Image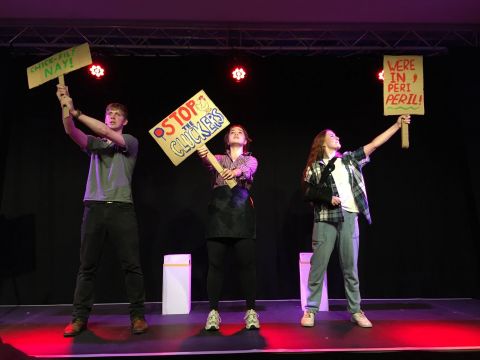 Company
Cambridge University Musical Society
Production
Ben James (composer), Joe Venable (writer), Molly Taylor (director), Ella Pound and Cerian Craske (co-producers), Lily Blundell (co-musical director), Izzie Sayer (stage manager, set design), Ella Fitt (lighting design), Ella Palmer (assistant director / choreographer / costume design), Kit Treadwell, (sound design)
Performers
Ella Nevill (Gemma), Emilia Grace (Daisy), Claire Lee Shenfield (Felicity), Dominic Carrington (Aidan)
Cambridge University Musical Theatre Society has previously enjoyed critical success over many years at the Festival Fringe most recently in 2017 with their show SiX. This modern retelling of the lives of the six wives of Henry VIII was developed as a professional production in the West End, on Broadway and international tours.
'On Your Bike' is a lighthearted, lightweight musical about 'love, labour and left over pizza,' set around Roy's Rotisserie (a menu of chicken, pizza, burgers and pasta), where Gemma and Aidan, two delivery bikers patiently wait for their mobile to ping with an Eatsaroo order. The song Regretably, reveals how Gemma has applied for 97 jobs, all rejected. In a comical routine, complete with helmets and iconic food delivery backpacks, two whirling pizza boxes are the wheels of the bike.
Gemma has left her family home and struggling to survive, living an Inbetween Existence in a flat on a mezzanine floor but unable to pay the rent. She and Aidan, a budding artist, are good friends, perhaps leading to a closer relationship, when his old school-friend, Daisy turns up, quickly pushing her assertive way into his life – romantically and professionally.
Through a lively mix of songs, ballads, rap numbers and dance routines, the storyline unfolds – the potential opening of KFK, a major chicken restaurant nearby which would affect Felicity's business, the dilemma of zero hour contracts and no sick pay for hard working bikers.
The choreography is rather limited on the very small stage and the lyrics shift between the poetic and the ridiculous with rhymes such as Aristotle and throttle, Dickens and chickens. While the characters and scenario lack dramatic punch or passion for a successful musical, the cast act, sing and dance with energy and gleeful (if rather over-acted) enthusiasm.
Show times:
Dates: 06-28 (not 15) August @ 15.25.
Ticket prices: £12 / concessions £8