Image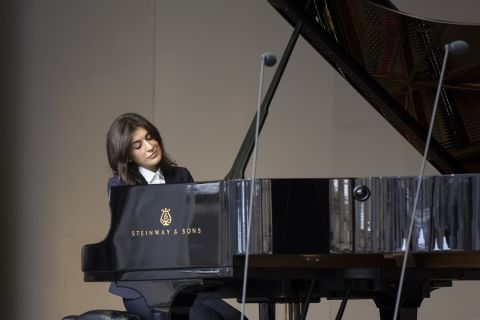 Production
Fantasiestücke Op 12 (Schumann); Aufenthalt, Ständchen & Erlkönig (Schubert/Liszt); Isoldes Liebestod (Wagner/Liszt); Valse de bravoure (Liszt)
Performers
Mariam Batsashvili (piano)
A glittering performance from Georgian pianist Mariam Batsashvili, who captivated the audience at the Old College Quad.
The programme opened with Schumann's 'Fantasiestücke'. With the composer's larger works more often preferred, this composition is not so often heard; yet these eight piano miniatures were ideally suited to a shorter recital, within the constraints of the current times. Inspired both by the horror and fantasy of the writings of ETA Hoffmann, we experienced the diverse energies thereby implied. Batsashvili expertly spanned both the reflective and ecstatic, the tranquil and troubled. The opening, 'Des Abends', was disarming in its serenity, while the subsequent 'Aufschwung' went on to erupt in frenzied fervour. In particular, the rapidity of the 'Traumes Wirren' – and the musical concentration it required – was breath-taking, before the concluding triumphal and ceremonial 'Ende vom Lied'. All were negotiated and navigated with Batsashvili's composure and cool.
Liszt produced a number of transcriptions of the songs of Franz Schubert. From the latter's 'Schwanengesang', we heard two of Liszt's arrangements. 'Aufenthalt' (Resting Place) is a title tinged with irony – "Surging river, roaring forest, immovable rock, my resting place." Batsashvili played this piece with passion and fire. 'Ständchen' (Serenade) was mesmerising, and Batsashvili duly held us under its spell. By way of contrast, the 'Erlkönig', with its menacing repetition, reflected the horror of a pursuing child-snatching demon, that the original song indeed narrated.
In addition to Schubert, Liszt had also made transcriptions of Beethoven's symphonies; but our next piece came originally from Wagner, and 'Isolde's Liebestod' is a comparatively unaltered reimagining by Liszt for piano. His own original (and earlier) work 'Valse de bravoure' concluded the recital, taking us from its sparkly beginning through to a climactic sprint, and left us all asking for more. For the encore, devotees of Batsashvili will have been unsurprised but delighted – the 'Petit caprice "Style Offenbach"' by Rossini was rapturously received.
The performance finished at 1.00pm.
Mariam Batsashvili, Friday 20th August, 12.00pm, Old College Quad
Photograph © Jess Shurte, used with permission