Image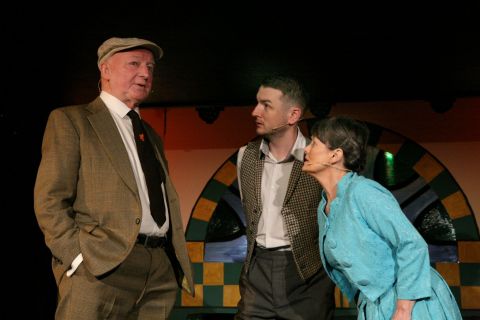 Company
Traverse Theatre Company
Production
Stuart Hepburn (Writer and Director)
Performers
Dave Anderson (Chic Murray), Maureen Carr (Maidie Murray) Brian James O'Sullivan (cameo roles - theatre managers, friend, neighbour, musician).
"The greatest character I have ever met in my life was Chic Murray. He was unique. He was so far ahead of his time, an hysterically funny man with a tremendous sense of humour." Ross Bowie, Theatre Producer.
"Chic was a storyteller more than comedian.  In a double act, two personalities have simply got to gel together. I was bright and peppy, while he was sombre so we just fitted each other fine." Maidie Murray
"Daily Record, 3rd May, 1955.  The Spring Show. Chic Murray and Maidie are the tops .. a growing reputation with their novel form of comedy."
This is a welcome revival of Stuart Hepburn's smash hit play about the life and times of Chic Murray, the legendary stand up comic from Scottish Variety Theatre to the London Palladium. For those who don't know the name, think of the zaniness of Groucho Marx with a Billy Connolly accent and patter.
On the soundtrack, a medley of Hillbilly, Country & Western and Irish songs; a simple yet very versatile stage set comprises a piano, sofa and a couple of bentwood chairs. The narrative starts with a nostalgic prologue in the 1980s and then in flashback we hear Maidie's reminiscences of the good old days. As a talented child star, she sang, danced and played the accordion, touring the variety theatres.
In 1942, she secured an 8 week contract at the Empire Greenock and was given theatrical lodgings with a Mrs Murray.  In a most amusing scene, Chic is enjoying a sing song with a friend, ignoring the front door bell, until finally Maidie is invited in and shown to her room.  The young lad is smitten by this attractive girl, whispering to his friend "take a long walk off a short pier" (i.e. get lost). Then over the next few months he follows her on tour from Motherwell to Aberdeen, Kirkcaldy to Falkirk until their wedding at St. Giles.
While Maidie was a successful singer, Chic was an amateur entertainer and pianist with the Whinhillbillies, but determined to develop his talent for telling jokes. She encouraged him, explaining about timing to create a unique style of comedy and soon the idea of a double act was born, Chic and Maidie, The Tall Droll and the Small Doll. (He was 6 ft. 3, and she was 4ft. 11).
Many of Chic Murray's famous short gags and comical tales are peppered throughout the show, performed with his inimitable dry wit, impeccable timing and dead pan personality by Dave Anderson.  "A man goes into a pet shop and asks how much the wasps are. 'We don't sell any wasps'. 'Well, there are two in the window'."
The story of Chic and Maidie, on and off stage is imaginatively dramatised in a series of intimate scenes with a real sense of the period through costume, lively music and song.  In her neat blue suit and lovely smile, Maureen Carr captures Maidie's gentle femininity as well as a confident strength of character with buttoned-up emotion.
Playing a mini cast list of managers, musicians, friends and neighbours, Brian James O'Sullivan has a quick change from dressing gown to business suit switching cameo roles with a touch of farce. All the way through, he keeps reminding Chic to tell the joke about the Blackpool Wedding which is finally related, in typical long-winded manner at the end. 
This intimate, charismatic one hour play is like Chic and Maidie's photograph album - a colourful, often poignant snapshot illustrating the highs and lows, laughter and tears of their private family life and professional stardom.
Show times:
7 – 28 August, @ 12.30
Ticket prices: £16
A hot pie and a pint of Innis & Gunn lager or soft drink are included in the ticket price.
Age guide, 14+
Originally produced with Glasgow Lunchtime Theatre at Òran Mór.
https://www.traverse.co.uk/whats-on/event/play-pie-pint-chic-murray
Photo credit, Leslie Black