Image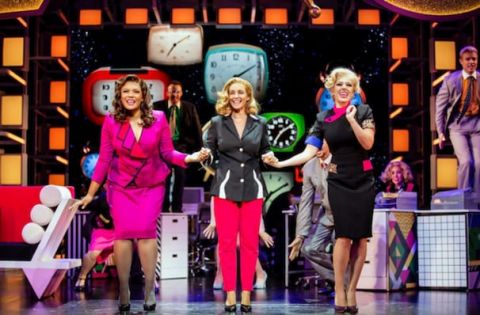 Production
Dolly Parton (Music & Lyrics), Patricia Resnick (Book), Jeff Calhoun (Director), Lisa Stevens (Choreographer), Tom Rogers (Designer), Howard Hudson (Lighting Designer), Ben Harrison (Sound Designer), Nina Dunn (Video Designer), Richard Mawbey (Wigs & Hair Designer)
Performers
Louise Redknapp (Violet), Vivian Panka (Judy Bernly), Stephanie Chandos (Doralee), Sean Needham (Franklin Hart Jnr), Julia J Nagle (Roz), Russell Dickson (Joe), Richard Taylor Woods (Mr Tinsworthy), Callum Henderson (Dwayne), Ross Lee Fowkes (Dick), Ricardo Spriggs (Josh), Sarah-Marie Maxwell (Margaret), Rebekah Bryant (Missy), Emily Bull (Kathy), Demmileigh Foster (Maria), Sonny Grieveson (Bob), Grace Walker (Candy Striper).
The atmosphere at Edinburgh's largest seated theatre was electric yesterday evening as the venue reopened after 545 days of darkness with the new UK touring production of Dolly Parton's hit musical.
The past 16 months has meant a complete lack of the 9 to 5 lifestyle amidst Covid-19 restrictions, yet this retrospective look at life in offices as women try to gain respect, equal pay and promotions still has resonance with modern audiences. While many could think this is an antiquated story arc, sexism and privilege is just as prevalent today as forty years ago when the film was released, with no better example than the MeToo movement, plus a 2020 Independent article from Olivia Petter reflects that even though it has been fifty years since the Equal Pay Act the gender pay gap persists. 
Staying true to Jane Fonda's original idea for the movie - creating a comedy for enjoyment but with a strong message at its heart - Patricia Resnick has intelligently adapted her original screenplay, highlighting the warmth of the original while utilising the musical genre to emphasise the farce for the audience's enjoyment.
Tired of being overlooked, disrespected and harassed by their narcissistic boss Franklin Hart Jnr. (Sean Needham), Violet (Louise Redknapp), Doralee (Stephanie Chandos) and Judy (Vivian Panka) team up and kidnap their boss, holding him captive in his own home - which contains some handy help for the ladies and a great reveal for the audience. With Violet at the helm, who has just been passed over for promotion, they seize the opportunity to secretly run the company and transform Consolidated Industries into a more productive and pleasant office.
Tom Rogers' set perfectly reflects the conformity of 1980s office life and adapts to the quick scene changes amidst Lisa Stevens' choreography, cleverly balancing the stultifying aspects of corporate life with fast-paced, expressive moments for the ensemble who remain a presence throughout in various capacities.
The jovial touch to the show, which includes Dolly herself on screen as our storyteller, is key for enjoyment here, as one thing a few of the talented lead roles do not have down is their American twangs, which they only get away with because the audience is just happy to enjoy the over the top romp, yet in a more serious setting it would pull you out of the story. 
Sean Needham is brilliant in the boss man role, clearly loving playing his pantomime caricature who is accurately described as a "sexist, egotistical, lying, hypocritical bigot", and his penchant for pelvic thrusts during 'Here for You' will have you laughing and cringing equally. A mention must also go to Julia J Nagle's lovelorn Roz, whose obsession with her boss sees her drop her buttoned-up exterior with hilarious consequences. 
Vivian Panka, in her UK debut, packs a punch as Judy, the meekest of the women who finally finds her voice in the power ballad 'Get Out and Stay Out' while Stephanie Chandos as Doralee places her own stamp on the role without losing any Dollyisms, blending sensitivity and strength beautifully in 'Backwoods Barbie'. And while Louise Redknapp may not possess the scathing sarcasm for some of Violet's brilliant lines, she successfully portrays the character's pent-up frustration and enjoys unleashing it with the slickly choreographed 'One of the Boys'. 
No song can truly compete with the famous fingernails of '9 to 5' and its catchy hook, but Parton's songwriting talent seeps into every number in the show, blending comedic observations and lustful thoughts and 'I Just Might' is a highlight, combining the stories and voices of our three leading ladies in harmony and hope.
It's been a long time coming, but theatres are back open and this show is definitely a great one to get back to live performance with. You'll laugh, gasp and cheer while humming all the way home, and hopefully reflecting on the issue at its heart with a spring in your step. 
9 to 5 is on at the Edinburgh Playhouse until Saturday 18 September.
© Lindsay Corr, September 2021