Image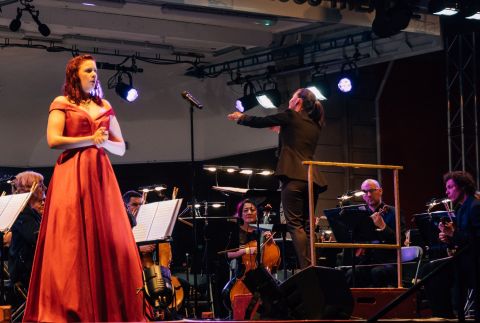 Company
Scottish Chamber Orchestra
Production
First part (without fireworks) Bizet, Selection from Carmen. Second part (with fireworks) Glinka, Overture to Ruslan and Ludmila; Dukas, The Sorcerer's Apprentice;   Berlioz, Ball, March to the Scaffold & Witches' Sabbath from Symphonie fantastique.
Performers
Marta Gardolińska (conductor), Catriona Morison (mezzo soprano)
It was the most perfect of summer evenings to celebrate the ending of another fine Edinburgh International Festival. Entering the Gardens from the St Cuthbert's Steps, the audience seemed larger than it has ever been. Regulars had been arriving in good time to get a view from the grassy slope that is not interrupted by trees. This year more than ever; many were having to watch through the branches. But there was an eager expectation and only slight frustration of a seven minute delay in the start of the concert. 
The Scottish Chamber Orchestra was in the Ross Bandstand and out of range of most of us, but this was remedied by sight of large screens. The announcements were particularly clear, friendly and precise. Before the fireworks were to start the Orchestra accompanied Catriona Morison, winner of BBC Cardiff Singer of the World 2017 in a selection of three of Bizet's familiar songs from Carmen - and impressive it was.
There was then a slightly frustrating ten minute or more wait for the second half of the concert, but the audience had come, by and large, for the fireworks and the wait mattered little.
When they started again the Orchestra played Glinka's Ruslan and Ludmila Overture in beat with a fantastic fireworks display from the Castle. Under the baton of Marta Gardolińska, born in 1988 in Warsaw, Poland and currently holding the post of Leverhulme Young Conductor in Association at the Bournemouth Symphony Orchestra, the Scottish Chamber Orchestra continued in sync with Pyrovisions pyrotechnics playing first Dukas's The Sorcerer's Apprentice and then from Berlioz, his ball, March to the Scaffold and the Witches' Sabbath from Symphonie fantastique - all the time the fireworks getting more adventurous, more exciting and louder as they lit up the sky over central Edinburgh.
In my mind there is nothing more impressive, however, than seeing them cascading down from the Castle over the rocks for the famous Waterfall; it's my annual treat.
Performance: Monday 26th August 2019 at 9.00pm.