Image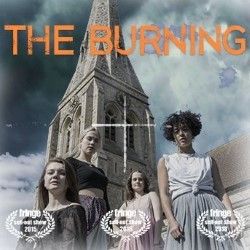 Company
Incognito Theatre Company
Production
Zoe Guzy-Sprague (writer, dramaturg), Roberta Zuric (director), Hannah Wisher (producer), Helena Bonner (production designer), Ingrid McKinnon (movement director), Alexandra McKenna (stage manager), Phoebe Parker (original music)
Performers
Keturah Chambers, Jennie Eggleton, Kimberley Hallam, Phoebe Parker
"She's a witch!" The Burning opens with the four performers in a line across the front of the stage lip-synching the famous Monty Python sketch. But this is where the comedy ends.
Listen; our ancestors are calling! To understand the present, we need to understand the past. And so we are flown back through time to begin rattling through a history of witches down the ages. In a series of episodes, chronologically ordered, stories of women accused of witchcraft are set within in the religious, social and political contexts of the time. But whether it is the medieval superstition that takes the life of Agnes Waterhouse or the institutionalised slaughter wrought by the Witchfinder General, there is a common thread; when crops fail, when livestock dies, when storms rage, some malign force must be at work and it is always the women who are to blame.
The broad historical narrative takes in the invention of the printing press, rise of Protestantism, the Civil War, the Enclosure Acts and the Industrial Revolution. It interspersed with a modern story; Rebecca is clearing out the big old house of her estranged mother who has just died. There are boxes and boxes of papers about witches. The weight of history is overwhelming. What should she do? Burn the papers or burn down the house?
The Burning is a highly ambitious attempt to present great swathes of history in short scenes, where the opportunities for inventive stagecraft are hampered by the confines of a stage with no depth.
And what remains unclear at the end is how the present day predicament of the young woman in her mother's house is illuminated by the history lesson. Perhaps the message is just that a raging fire is needed to sweep away all that has gone before.
August 9-12, 14-26 at 15:15