Image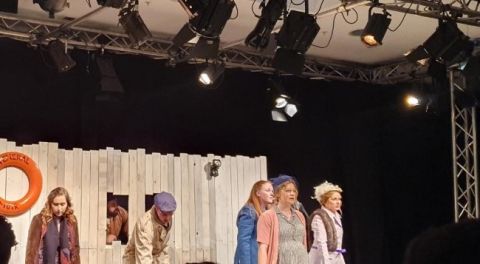 Production
James Robert Brown (Music and Lyrics)
A proficient and powerful performance that had been clearly carefully crafted, from the considered song selection, to the effective scene setting.
Transposed to the 1940s, this was an imaginative and uplifting reinvention of an inspiring song cycle, with eye-catching costumes and slick choreography. Set on board a ship, the staging worked very well, especially given the size of the venue. The physical journey to a 'new world' was paralleled by the personal, emotional and sometimes spiritual journeys of the cast; each of these sung stories – in their diversity and commonality – were appealing and engaging.
The musicians played with flair, and the singing too had real emotion. It was wonderful to see the singers investing so much of themselves in this performance, and their energy and enthusiasm clearly shone through. The combination of the different musical genres – sometimes evident within the same song – was gripping, and was handled by the cast with panache.
At times, the music somewhat overpowered the singing, making it difficult to discern the lyrics. However, the performance grew in confidence and built its own momentum. Overall the female songs were the stronger and more secure (the rendition of "Christmas Lullaby" was spine-tingling), and some of the best moments were when the whole cast came together as a whole, at which points the atmosphere was electric.
A great last performance at this particular venue; the performance finished at 6.50pm.
Songs for a New World, Saturday 10th August, 5.55pm, theSpace @ Surgeons Hall