Image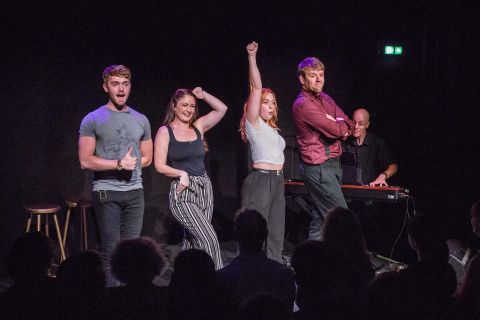 Company
Alexander S. Bermange
Production
Alexander S. Bermange (composer, lyricist & musical director), Chris Whittaker (director &choreographer), Damian Sandys (associate director), Jerome Van Den Berghe (co-arranger)
Performers
James Hume, Felix Mosse, Charlotte O'Rourke, Charlotte Anne Steen. Alexander S. Bermange (pianist)
From Phantom of the Opera to Wicked, from West End to Broadway and beyond,  Musical theatre is big business. Wannabe actors dream of their big break and this is their behind-the-scenes story about the long hard struggle to become a star of the musical stage.
Rather than the classic "show within a show,"  this a light hearted, often hilarious, song and dance revue.
Before a note is sung, James announces that his fellow actor, Felix is unwell - but the show must go on!  Alexander, the composer/lyricist himself, takes over the role - as well as playing the piano with sheer bravado.  It then kicks off with a charming medley of opening numbers from Oklahoma and Kiss Me Kate.
The first hurdle is the audition, brilliantly captured by Charlotte in a humorous song about competing with "100 hoofers who look alarmingly like me," and the ordeal ends with the inevitable, "We'll let you know."
The journey to elusive stardom covers every aspect of theatrical life on and off stage, perfecting fast paced choreographic routines and singing in key, ("I can out do Whitney!"), the role of the understudy and coping with badly behaved Divas.  Each scenario is dramatised through wonderfully witty numbers enriched with satirical puns and sublime rhymes.
The musical style blends a flavour of Gilbert and Sullivan and the fine art of spoken song, (e.g. Rex Harrison in My Fair Lady), performed with such precise diction, you hear every word. Far from being a pastiche, music and lyrics are refreshingly original in melody and theatrical manner.  The title song, "I Wish My Life Were Like a Musical" is a joyous celebration of  favourite characters, lions and witches of showbiz magic. 
The young professional cast are not only engaging singers and dancers, their acting and comedic skills are superb.  (James is reminiscent of a young Michael Crawford).  And of course, they had to endure the auditioning process with the four actors selected from 1,300 applicants for this Fringe show.  
Tap dance your way to Underbelly, Bristo Square to see this energetic, effervescent comedy cabaret, like a modern mash up of Fame and A Chorus Line.  Remember the name Alexander S. Bermange – the Lloyd Webber, Sondheim and Hamlisch of the 21st century.
Show times:
3 - 26 August, 2019 @ 20:45
Tickets: £11. (£10), £10 (£9)
Age guidance: 12+