Image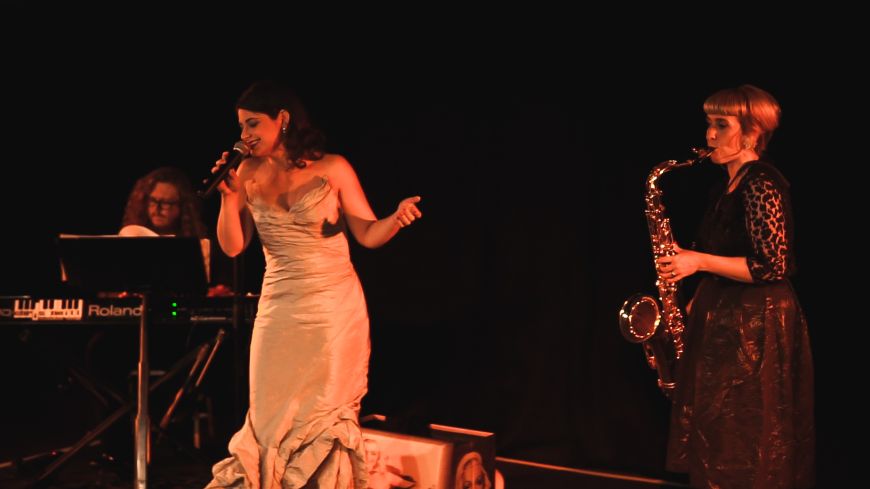 Production
Viviana Zarbo (writer)
Performers
Viviana Zarbo, (singer). Chris Neill (piano /keyboards), Stephanie Legg (saxophonist)
In Spring 1946, Norma Jeane Mortensen was a model for a shampoo commercial, stepping through the looking glass to become a blonde forever, and soon her Hollywood alter ego Marilyn Monroe was born.  
The Italian singer and actress, Viviana Zarbo has a passion for the American Song Book of Porter, Gershwin, Berlin et al.  Accompanied by two musicians, this Cabaret show pays homage to Marilyn's true talents as a fine actress and singer of these jazz standards. Sitting on a low stool, she begins to share a few childhood memories comparing her experiences with Marilyn's, neatly punctuated with a medley of classic romantic songs from her movies.
Growing up without a father, the lyrics are often particularly pertinent. "Every baby needs a da-da-daddy, To keep her worry free, Every baby needs a da-da-daddy, But where's the one for me?"   The beat and heat rise for the raunchy "Some Like it Hot" and "You'd Be Surprised" – be aware of the guys with the face of an angel but the devil in his eyes. 
Viviana does not impersonate Marilyn at all but brings a sensuous, soulful mood and manner to her own modern interpretations. With a broad vocal range, she shifts from soft, mellow tones to deep huskiness, a touch of theatricality in "I Wanna be Loved by You" and sassy sparkle to "Diamonds are a Girl's Best Friend."
Chris Neill on keyboards is exciting to watch, balancing smooth, syncopated jazz rhythms with an occasional racy, rock improvisation; Stephanie Legg is also marvellous, recreating the big band swing sound on saxophone with powerful vibe and energy.   
This musical biography of the legendary Marilyn Monroe is a well-crafted, cool and charismatic Cabaret performed with polished professionalism.  Elegantly dressed, Ms Zarbo exudes vintage glamour as she relates Marilyn's short, tragic life-story with charming humour, heartfelt emotion and exuberant vivacity.
The theatre at Space Triplex is unfortunately not the best venue – this would be a smash hit in an intimate Cocktail Bar or moody Jazz Club, chilled Martini in hand, for the perfect ambience.
Show times:
2 - 17 August (not 11) @ 15.55.
Ticket prices: £9.50 (£7.00) (£24.00 Family).
Age guidance: 5 +