Image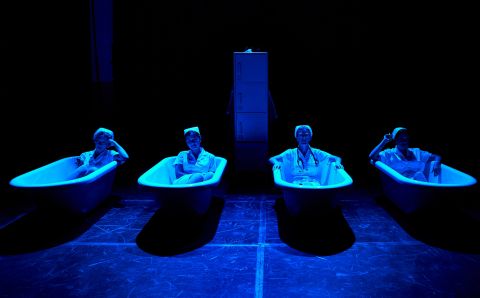 Production
Jessica Ross (writer), Steven Roy (director), Carrie-Anne Moss (executive producer),
Performers
Evelyn Edwards (Waltraud), Andrea Helene (Stephanie), Aurora Henning (Maria), Jessica Ross (Irene)
In 1991, Maria Gruber, Irene Leidolf, Stephanija Meyer and Waltraud Wagner were convicted of murdering forty-nine patients at the Lainz Hospital, Vienna.  This play is a fictionalised account behind the motive, method and madness of the seven-year killing spree.
The "angels of death" sit in bathtubs as ominous haunting music and the sound of dripping water sets the mood.  In starched white uniforms and sensible shoes, they quietly recall the moments when they played God and took a life: "I remember all their names and faces."  "They are waiting for death - do I let her suffer?"  From their point of view, the motive is based on kind, caring euthanasia.
The hectic, harassed routine of hospital life is illustrated by a constant sound of beeps, buzzers and crying babies. Unable to cope, they all appear stressed out, and Irene escapes to the loo for a cigarette and a quick slug of vodka.  The girls play the blame game, confessing that they have suffered too, victims of an abusive husband or traumatic childhood experience. 
We witness a few macabre "mercy killings," holding the patient down while water is poured into the mouth until they drown. Medical cause of death?  Pulmonary edema, fluid on the lung.  Unfortunately, these over-acted scenes are poorly staged, with the "corpses" struggling ungainly out of bed after their deaths. (quick lighting cue perhaps?).
This short, intimate re-telling of a tragic true story captures the brutality of these cruel, callous partners in crime in sharp, shocking close up. But this is a quartet of rather bland, cynical characters, lacking any emotion, and the one dimensional, dramatic tone flows along on a relentless wave of anger.  There is not a whiff of empathy to be felt, so why should we care? With the audience taking on the role of jury, Drowning presents the case for the prosecution without sufficient evidence to believe if they were cold-blooded murderers or angels of mercy.  
Show times:
31 July - 26 August (not 13) @ 14:30.
Ticket Prices: £10 (£9), £ 11 (£10), £12 (£11).
Age guidance: 14+