Image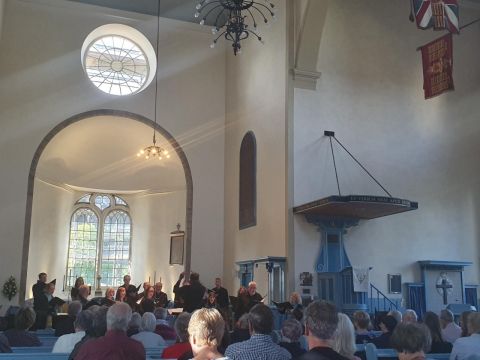 Company
Rock Festival Choir
Production
Totus Tuus (Henryk Gorecki), The Ground (Ola Gjeilo), The Old Church (Stephen Paulus), Alleluia (Eric Whitacre), A Little Jazz Mass (Bob Chilcott), Ave Maria (Franz Biebl), A Heavenly Song (Cecilia McDowall), O Sanctissima Maria (Paul Mealor), Sure on this Shining Night (Morten Lauridsen), Faire is the New Heaven (William Harris), Hail, Gladdening Light (Charles Wood)
Performers
Peter Brown (director), Alan Gidney & Margaret Watchorn (accompanists), Claire Johnson & David Whitlam (Soloists)
The Choir has achieved a reputation for its "rich and beautiful sound", an accolade which it lived up to, in this jaw-dropping recital of astounding quality.
Consisting of eleven pieces within the modern choral tradition, the programme gave us a succession of beautiful works which had all the characteristics that the genre is known for: an unashamedly uplifting feel, numerous key changes, and lush harmonies – 'The Ground' and 'Alleluia' being two of the very best examples.
The performance began with 'Totus Tuus', from the back of the church. Sung accompanied, a dramatic beginning gave way to something more meditative and devotional, alluring in both its complexity and intensity – requiring great control, which the choir mastered superbly. The Choir has a huge difference that exists between their loud and soft, just one of the reasons why their singing was so expressive.
It was wonderful to hear the short but now famous' Little Jazz Mass' performed. The works of Bob Chilcott have become greatly popularised, not least through the work of the RSCM, and many will be familiar with them from a church or cathedral setting. Here, the combination of a Latin text set to jazz and blues was a true triumph – and it was clearly well suited to the Choir, who you could tell thoroughly enjoyed singing it. In fact, that the Choir not only sang but also smiled brightly throughout the performance was clear – and made all the difference to the sound and feel.
Of particular note in this performance was the prominence given to the male voices, with the 'Ave Maria' being set for double male choir, their voices also being showcased in 'Sure on this Shining Night'. Additionally, the last two pieces were both scored for two separate choirs, resulting in a richness of sound over eight voices that had us all entranced.
This was a Choir that you could sit and listen to for hours – but the performance had to finish, at 6.30pm.
Contemporary Choral Classics, Friday 16th August, 5.30pm, Cannongate Kirk