Image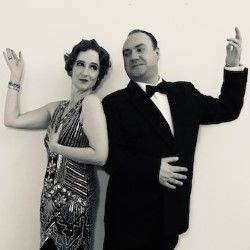 Company
Gin Palace Productions
Production
Natasha Nixon (lighting and sound), Jamie Spiers-Goddard (make up and wig technician)
Performers
Samantha Nixon (Gertrude Lawrence), Alasdair Carson-Sheard (Noel Coward), Darcey Nixon (Angel)
 This spiffing, sassy little show delves into the theatrical world and private lives of Noel Coward and his leading lady Gertrude Lawrence, relating their close friendship from the day they met until death do us part.
The setting is an English country garden, complete with wicker chairs, flowers and topiary. It's all rather bright and white, especially a sweet young angel with fluffy wings - for this is actually purgatory.  Whether Noel and Gertie should be sent to heaven or hell depends on our view of the performance. 
Dressed immaculately in a tuxedo, white tie and very polished shoes, Noel is bemoaning the fact the Gertie is late. Again. Their first brief encounter was as young children when they both played cute cherubs at Liverpool Rep.  This leads neatly into "Don't put your daughter on the stage, Mrs Worthington,"  performed with such clarity of  diction. 
Enter the elegantly slender Gertie, (silk pyjamas, sunglasses and cigarette holder) as Noel begins to relate their life story.  Anecdotes and teasing jokes are interspersed with a medley of all familiar song and dance numbers, Fred Astaire-top-hat-style.  
Coward's riotously romantic comedy "Private Lives" (premiered in Edinburgh, 1930), was finished in just a few days while ill in Shanghai with the delightful role of Amanda written for Gert (as he called her). The French hotel balcony scene where the estranged couple realise they are falling back in love, is encapsulated in the charming duet, "Some Day I'll Find You."
 The characters of Elyot and Amanda perfectly reflect the same complex, creative, tender and tempestuous relationship of Noel and Gert. Purely a platonic relationship, it was a true love affair of the heart, as revealed with tearful emotion.
He admired her extraordinary theatricality - sad, witty, fun and touching – exactly how to describe this musical revue.  A few farcical sketches and fussy, frivolous choreographic routines are rather overplayed; but, precisely, glamorously staged from vintage costumes to cocktail glasses, it's slick, sparkling, professsional with a talent to amuse.
To paraphrase Coward: "I've been to a marvellous Fringe show .. and I couldn't have enjoyed it more!"
Show times:
12 - 24 August, 2019 (not 18) @ 12.35
Tickets: £10 (£8). £5. (Family)
Age guidance: 8+