Image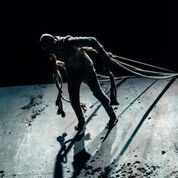 Company
Akram Khan Company
Production
Akram Khan (artistic director), Ruth Little (dramaturg), Michael Hulls (lighting designer), Vincenzo Lamagna (composer, sound designer), Mirella Weingarten (set designer), Kimie Nakano (costume designer), Jordan Tannahill (writer).
Performers
Akram Khan (performer), Nina Harries (double bass, vocals), B.C. Manjunath (percussion, konnakol), Tamar Osborn (baritone saxaphone), Aditya Prakash (vocals), Clarice Rarity (violin).
Akram Khan's trust in the power of collaboration is significantly rewarded in a new piece of work, delivering a performance of profound and intimate intensity.
Over four million colonial soldiers fought alongside the allies in World War I, including over one million from India. Their stories remain largely unheard and untold. The UK arts programme commemorating the centenary of World War I, 14-18 NOW, commissioned a variety of work to bring the experiences of these soldiers into the light. Akram Khan's Xenos is one of them.
An English dancer of Bangladeshi descent, Khan has a diverse movement language rooted in the classical Indian dance of Kathak, blended with his later training in contemporary dance. The original music score, devised in collaboration with the musicians who play live on stage, also carries an unusual eclecticism that sets 14th century Sufi musician Amir Khusro alongside Mozart, together with text from the young Canadian playwright Jordan Tannahill and traditional songs of the trenches such as Hanging on the Old Barbed Wire that tells of corruption and inequality in the ranks of the army.
From within this wholly unique context, Xenos sets out to explore what Khan sees as our present loss of humanity and the contradictions embedded in the human capacity to act with sublime creativity, imagination and beauty on the one hand and devastating destruction, cruelty and violence on the other.
Michael Hull's set is at first a welcoming space, with two musicians, performing vocals and percussion of ancient Indian origin, sitting on brightly coloured cushions at the bottom of a gentle slope that is littered with slithering ropes, the bare bulbs strung above their heads look as pretty as fairy lights. An abrupt change in the music and lighting thrusts Khan onto the stage and into a bleak landscape. The gentle slope can now be seen for what it has always been: a mud-slimed trench. The lighting is now stark, revealing a bleak and unforgiving wasteland.
These abrupt changes of mood continue throughout. Khan wears ankle bells on string and in a salvo of movement, accompanied by musician B.C. Manjunath's extraordinary konnakol, creates a joyous and astonishing spectacle of sight and sound. Later Khan will wind the end of his ankle strings around his wrists, moving like a man in chains, the lights dim, the music haunting.
Ultimately, Khan creates powerful images with breathtaking skill and simplicity. Informed by long-term collaborator Ruth Little's dramaturgy, the power of the work lies in the atmosphere Khan generates through the remarkable range of expressions he is able to communicate through his body. In Xenos Khan and his collaborators have created something that is devastatingly, profoundly human.
Runs 16th-18th August