Image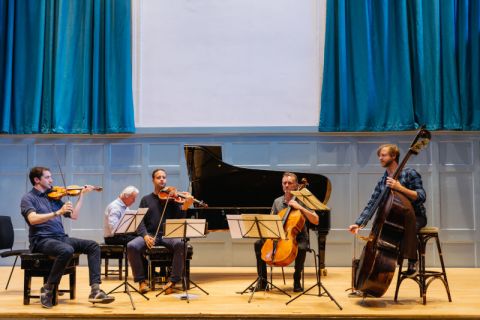 Performers
Christian Blackshaw (piano) Noah Bendix-Balgley (violin) Mate Szucs (viola) Martin Lohr (cello) Matthew McDonald (double bass)
To illustrate the universality of music, the ensemble playing at this morning's Queen's Hall recital came from all parts of the globe. America – Noah Bendix-Balgley (first violin); Hungary - Mate Szucs (viola); Germany – Martin Lohr (cello); Australia – Matthew McDonald (double bass) and Britain – Christian Blackshaw (piano). The common denominator was that they all have a relationship with the Berliner Philharmonker. The string musicians are not a touring quartet, nevertheless, they created the effect of an excellent accomplished ensemble.
The first work on the programme was by Mozart, his Piano Quartet No 1 in G minor. In three movements, it was written in 1785, a time when Mozart was focusing entirely on being a composer and performer. As he was a virtuoso pianist, the piano dominates throughout and Christian Blackshaw mastered superbly the frequent, complicated florid passages, idiosyncratic of Mozart's works. The middle movement highlighted Mozart's ability to produce the most sublime, simple themes which Noah Bendix-Balgley, Mate Szucs and Martin Lohr interpreted with the utmost feeling.
Schubert's Piano Sonata in A minor was the next piece on the programme. It was written when he was twenty-six, soon after he had discovered he had contracted syphilis. At the time he wrote: "I am the most unhappy and miserable person in this world… my health will never improve, and in such despair, things will only become worse instead of better…" The sonata appears to be almost autobiographical in that it exudes many reflective, melancholic moments which Christian Blackshaw illustrated with the most beautiful, sensitive touch on the piano. Playing without a score and with great dexterity, he immersed himself in the interpretation of this emotionally complex piece and the finale, with its strident chords, and decisive runs gives the impression Schubert's optimism for life had been resurrected.
The final choice on the programme was Schubert's Piano Quintet in A major – The Trout. This famous quintet, written almost two hundred years ago, still plays to packed houses. . Composed when Schubert was only twenty-two, a few years before he had been diagnosed with the fatal illness, it exudes exuberance and was inspired by his baritone friend's love of the melody in his song 'Die Forelle' (The Trout). In five movements, it comprises piano, violin, viola, cello and double bass and with the familiar 'Trout' theme permeating the composition, it has many sprightly passages which the musicians performed with great aplomb. And Martin Lohr's exquisite cello playing of the theme was heart-rending. And as a quintet their interpretation of the final movement was dynamic.