Image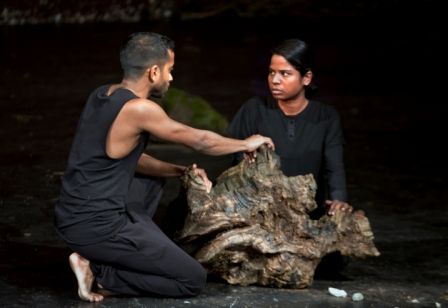 Company
Théâtre des Bouffes du Nord
Production
Peter Brook & Marie-Hélène Estienne (text & stage direction), Philippe Vialatte (lighting), David Violi (set elements), Alice Francois (costume assistant).
Performers
Hiran Abeysekera, Herve Goffings, Omar Silva, Kalieaswari Srinivasan, Donald Sumpter.
Peter Brook, often referred to as 'our greatest living theatre director', has a formidable reputation. As part of the residency of the Théâtre des Bouffes du Nord at this year's International Festival, Brook brings The Prisoner , a work co-written and co-directed with long-term collaborator Marie-Hélène Estienne.
Brook's 1968 book 'The Empty Space', examining four competing viewpoints on theatre, made big waves at the time and is still taught on a number of theatre courses around the world. The book was based on a series of lectures he gave in 1965 that subsequently funded a trip to Afghanistan, where he first heard the story that he expounds and explores in The Prisoner.
A young man, in love with his sister, arrives home one day to find her in bed with their father. In a fit of rage and despair, he murders him. His uncle decides on the unusual punishment of commanding the young man to sit outside the prison in which he should be caged, where he will be always tempted to leave, yet must stay until he knows within himself that he has served his time. If anyone asks what he is doing, he must reply, 'I am here to repair'. After twenty years, and only after the prison itself has been razed to the ground, the young man leaves for home.
Taking the empty space as a starting point and working always to strip away the usual theatrical layers of pretence, is what Brook is known for. In this he does not disappoint, with a stage that is completely empty save for a few bare branches, either lying on the ground or growing upwards into more empty space. The dialogue too is minimal, with long periods of silence which Brook sees as the 'finest expression of emptiness', drawing the actors and audience into a shared feeling more revealing than words.
Somewhat disappointingly in The Prisoner, Brook's two rules of the stage space, that anything can happen and that something must happen, are not fully realised. The story gently unfolds without anything much happening and with no sense that anything else might happen. Without the latter there is no sense of drama, and although the intention of this understated approach may be to reveal something profound through such simplicity, the characters and the story feel sadly remote.
What we are left with are a few truisms such as, it's important to forgive yourself and others and that one can only judge oneself. Neither profound nor revealing, this is not nearly enough to even begin to fill Brook's empty space.
Runs 22nd – 26th August