Image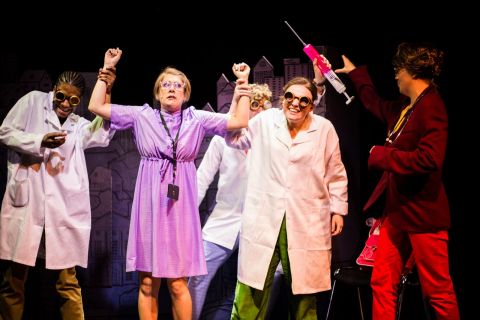 Company
Fat Rascal Theatre
Production
Robyn Grant (Book & Lyrics), James Ringer-Beck (Composer), Daniel Elliot (Co-Lyricist), Laura Elmes (Producer)
Performers
Allie Munro (Bryony Buckle), Robyn Grant (Keith Herlit/The Manplainer/Elton), Katie Wells (Poppy), Jamie Mawson (Orson Bloom), Andrew Dillon
With their spanx, sports bras and an exceptional score at the ready, Fat Rascal Theatre are back to save the streets of EdFringe from a crime punishable by death - Misogyny! Returning with their fifth musical in only two years, including the award-winning sell out show Buzz: A New Musical and Tom and Bunny Save The World, this powerhouse of a company present Vulvarine: A New Musical.
Set in the quiet town of High Wycombe, where drama and excitement is rare - if not non-existent - bored but vigilant tax worker Bryony Buckle discovers someone has been stealing the contributions from the Tampon Tax and is determined to find the source. Along with the always timely bolt of lightning and an unusual injection from her GP, plain old Bryony Buckle gains a never ending list of superpowers - becoming Vulvarine! Behind this diabolical scheme is evil scientist Keith Herlit, better known as "The Mansplainer" who, with the help of his aquatic colleagues, is determined to overthrow the female race.
A masterclass in musical theatre, Vulvarine is a fast paced, fearlessly funny lesson in feminism. Amid the spike in superhero popularity, with Marvel sitting at the top of the food chain, Fat Rascal Theatre have finally given us a female superhero we can be proud of.
Allie Munro's spunky Saviour of Womankind drives the plot through, oozing female empowerment - and most of all - impeccable comic timing. All of this whilst saving her damsel-in-distress, the boy-next-door Orson Bloom, played by associate artist Jamie Mawson. Artistic Director and writer Robyn Grant is compelling to watch, commanding the attention of the entire room - regardless of whether she is playing the evil mastermind or Elton the cat!
This side-splitting comedy musical promises to save women from misogyny, High Wycombe from evil villains and Edinburgh Fringe-goers from risky new work that doesn't quite hit the spot. Vulvarine to the rescue!!
Running 1-26 Aug (not 15)