Image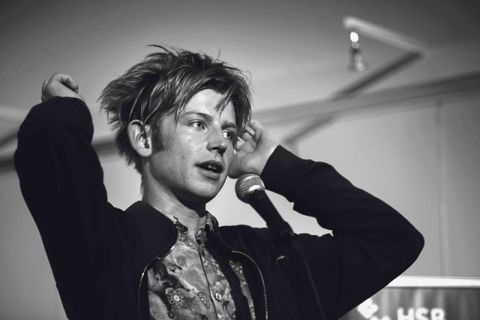 Company
Toby Thompson in association with The Pleasance
Production
Jesse Jones (director), Toby Thompson (writer)
Filled with records, poetic musings, and beautiful love poems, this show is like stepping into the poet's own living room and sharing in his delight at life's mysteries. Toby Thompson: For The Record is found at Pleasance That, a room away from all the madness of the Pleasance Courtyard. Inside is a simple set; a piano, a table, a record player, the poet's own rug, a collection of personal records, and even a potted plant. Toby is brewing coffee, and with the first record playing the poet introduces the audience to the premise of the journey that he will take them on over the next 60 minutes.
Something truly magical follows. The poems are prefaced with the record that inspired its creation, and the poems that transpire are filled with whimsy, leading the listeners through an ethereal exploration of life, love, and music. The show is filled with warmth, beauty, and unexpected humour as it spirals through a uniquely musical and poetic performance.
Touching, captivating, and toe-tinglingly lovely, Toby's work is a joy of alliteration, rhyme, and rhythm all intertwined with records and a dash of live piano playing. Not only are the stage, the music, and the poetry all so captivating, but also Toby's presence. The connection between audience and performer is almost spiritual, the innocence and nostalgia of Toby's demeanor bewitching as he engages with lyrical and playful wordsmithery. With poems so understatedly clever and entertaining, balanced out by beautiful music, this show is truly hypnotic. This is performance poetry at its most heartfelt.
Times: 6-12, 14-19, 21-27 August, 3:15pm