Image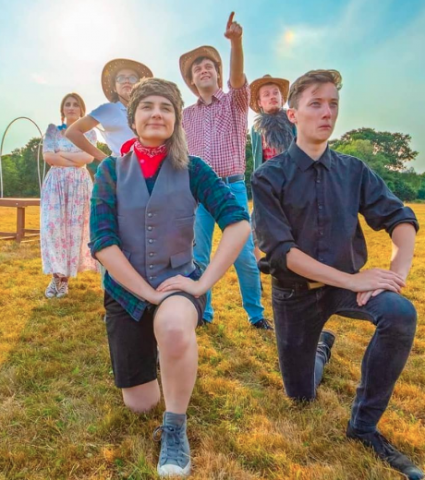 Company
Gone Rogue Productions
Production
Jeff Blim (book, music, and lyrics), Nick Lang (book), Brian Holden (book), Drew Defour (additional music), Phoebe Alicia-Armstrong (director/choreographer), Ben McQuigg (musical director), Ollie Johnson (assistant director/choreographer), Abbie Roach (producer), Gaby Puleston-Vaudrev (producer), Victoria Howard-Andrews (assistant producer), Xafsa Mohamud (tours officer), Ben Wilcocks (assistant production), Joseph Lynch (set building), Paul Schild, Alex Hunt, Charlie House (photography)
Performers
Georgia Harper (Mother), Gem Tunley (Daughter, additional guitars), Bella Norris (Son), Josh Vaatstra (Father, additional guitars), John Wilders (Grandpa/Cletus Jones), James Adams (McDoon/Everyone Else, additional guitars), Ben McQuigg (Keys 1/conductor), Charlie English (guitar 1)
"It's Oregon or bust!" This audience-interactive, campy musical The Trail to Oregon! brings to life the classic (and educational!) childhood computer game every 90's-born American loves. The scene opens on an 1800s Midwestern family gearing up for the treacherous migration from Independence, Missouri to Oregon.
Nostalgia plays a big factor for those who are familiar with the game, but you needn't have ever set upon the proverbial CD-rom trail to enjoy this musical. Musical numbers concerning the fearsome crossing of the river (ford? caulk?! ferry?!!), chatting with fellow travellers at tradeposts, and the iconic hunting of the buffalo are both hilarious and hilariously accurate.
The Oregon Trail may be famous as a popular game, but it conveys very real events in American history. The trail was a rough trek undertaken by pioneers in covered wagons looking to get to Willamette Valley before running out of food, water, and oxen. The journey was volatile, with very few making it to the finish line alive. This musical makes good on the promise to be educational, but you're too busy laughing to really take any notes.
John Wilders as Grandpa "Monkey Scrotum" (Ah, audience suggestions. What fun.) and Cletus Jones is committed to making these roles as funny as they can be, and he succeeds. Josh Vaatstra as Lord Commander of the Night Watch Jon Snow, or the Father and leader of the pioneer family, is also quite hilarious. James Adams plays a myriad of characters, all distinctly different, all eliciting laughs from the crowd. His Bandit King comes off very Beetlejuice, and no one seems to mind. Georgia Harper as the mother (named Sansa Stark) has some natural comedic talent and a nice voice; it's rather impressive that this is her first musical ever. Overall, however, come for the comedy not the music, as the songs prove as challenging for the bunch as a broken axle does for the wagon. That being said, it must be noted that frequently the performers switch to and from being band members, which is almost as impressive as their American accents (well done).
Satisfying gags and nods to key game quirks are abound, but the musical plays out into a comic narrative of a family risking everything for a better life, although the writing in the first half outshines the latter. In fine gamer fashion, this is a choose-your-ending adventure. Death by dysentery- we all knew it was coming, but who will it strike? The Trail to Oregon! is fourth-wall breaking and goofy. Snakebites and exhaustion couldn't drag the enthusiasm and fun of this piece down.
Aug 17-25 (not 19)
22:10
14+
Photography credit: Charlie House Media