Image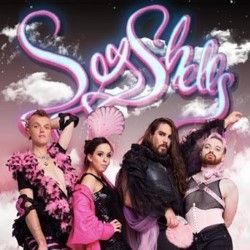 Performers
Doctor Le Strange, Dom top, Calum Mac, That Woman Rosie
London's camp cabaret quartet, Sex Shells is a shameless satirical show certain to have you screaming for more. Complete with rewrites of your favourite Disney and pop hits, utterly fabulous costumes and edgy comedy, an hour in the clasp of these queens is a hoot.
Topical (with so much 'T'), the musical have received a 21st century overhaul turning Elton's Lion King masterpiece into a yummy mummy mocking Circle of Strife; making Eurythmics Sweet Dreams gluten free; and a musical case for God's real sexual identity.
Doctor Le Strange, clearly made it to costume first, bagging a Disney's Jasmine inspired Hareem pant suit - complete with pink chiffon cape - whilst his stage sisters seem to have opted for more minimal coverage in their seaside inspired looks. None the less, the three queens squeeze their huge personalities, extravagant costumes and fantastic voices onto a teeny stage along with pianist and beautiful vocalist - That Girl Rosie.
Despite tackling some risky subjects, such as the sexuality of a Deity and twitter trolling of women, each of the musical numbers, even one regarding a supermarket self-service machine, are hilariously performed by the troupe, yet the finale - written by That Girl Rosie - steals the torch from this flaming foursome.
Runs until 26 Aug