Image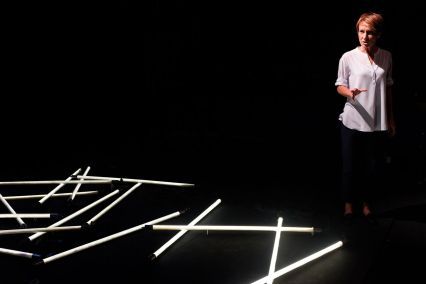 Company
China Plate and Audible with New Theatre Royal Portsmouth
Production
Martin Zimmerman (writer), Christopher Haydon (director), Frankie Bradshaw (designer), Colin Grenfell (lighting designer), Donato Wharton (sound designer), Monique Touko (assistant director). Produced by China Plate.
Like a child a weapon won't be satisfied until it dominates your every thought.
The nightmares start for the female tutor when a male student reacts aggressively to her suggestion that there might be a small disadvantage to being a woman – it is women's studies course after all.
Fear manifests itself as a challenging dream of him, "The Catalyst", all entitlement, testosterone and adrenaline, revealing a concealed gun. With news reports of school shootings, who might be next? If she were killed who would take care of her son Michael, whom she has turned her life inwards towards?
On one unremarkable September day the unthinkable happens and there is a shooting at his elementary school. She is left struggling for answers, fixating on meaning and assigning blame, seeking distinction between legality and morality and cycling through amnesia and guilt as Michael disappears into thin air.
Her life has been one of choices, accepting challenges and tensions between what is expected of her and what she wants to do. Contradictions within her reaction to grief lead her to embrace the same type of assault rifle used in the school shooting and through it she finds an intimate power to commune with Michael. She becomes the weapon's companion, seduced by the power that connects her. To shoot well is a surrender, living between the heart beats, released on the exhale. It's an act not unlike parenting, but where will it take her and how far will she go?
Receiving its European premier, this one-woman play was written in the wake of the 2012 Sandy Hook Elementary School shooting; the deadliest mass school shooting in U.S. history, and some 130 recorded firearms incidents in American schools and campuses that have followed.
The production is delicately directed as she picks her way through the sparse fragile set, backed by a pulsating sound design. The writing is best when stark, feeling a little forced when more florid. It's a strong performance, exhibiting the emotional restraint called for by the script, but there is a lack of connection which doesn't allow it to feel like her story.
In some ways the script dodges the bullet, but it's an intriguing look at trauma and grief.
Show Times: 3rd to 26th (not 6th, 13th, 20th) August 2018 – times vary.

Tickets: £20.50 (£15.50 / £9.50)
Suitability: 14+