Image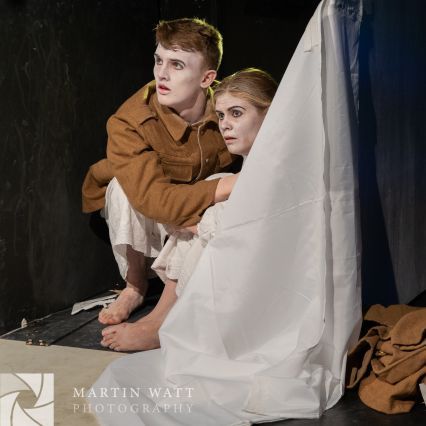 Company
Crossbow Collective
Production
Aiden O' Beirne (co-director and sound designer), Frankie Thompson (co-director), Delphine Bueche (co-producer), Mila G Lawlor (co-producer, set and lighting designer), Clare Phelan (choreographer). Collectively devised based on the book by Dorothy Lawrence and the writing of Ines Lozano Palacio.
Performers
Drew Rafton, Delphine Bueche.
This is the story of Dorothy Lawrence, British journalist and aspiring First World War correspondent, who slipped behind the front lines and almost out of history.
There are four different dates for her birth and no records other than her censored book describing her stint with the Royal Engineers at the beginning of biggest British attack of 1915.
Against a background of propaganda, "Daddy, what did you do in the War?" and "I wish I were a man – I'd join the Navy!", the two actors combine to echo Prime Minister Asquith's speech following the German invasion of Belgium. Peace is no longer possible.
Both also play Dorothy as she is asked to tell more about what happened. She describes how she went to Fleet Street, centre of the newspaper industry, keen to tell the truth, but her attempts to be a female war reporter were met with disbelief, disapproval and derision.
Undeterred she hits upon the brilliant plan to go alone by bicycle from London to Paris. As the papers trumpet a "glorious victory" of three miles gained for the loss of an entire regiment she finds a kindred spirit in a military man who is not fond of the blatant propaganda and thinks her plan might just be mad enough to make a difference.
Assisted along the way in assuming the disguise of a soldier she passes disused trenches, empty of men who did not necessarily believe what they were fighting for but who had been filled with deadly ideas of patriotism. Where people have been evacuated she moves in, describing the flashes of artillery shelling as "killing takes place artistically".
By subterfuge she makes it to the tunnels and trenches within a few hundred yards of the front line only to fall sick and be discovered. She faces a volley of fired questions; is she a spy, mad, how could she deceive all these soldiers, what really happened – is she even real?
This is inventively and skilfully told as a two-hander using mime, music, movement and shadow play. Extracts from Lawrence's book feature as part of the excellent sound design. The structure, with the use of flashback, makes it a little difficult to initially work out the chronology of the almost clowned scenes depicting her later treatment, but that soon resolves itself. The "clowning" makes it entertaining without detracting from the main themes.
They have achieved an exceptional act; as did Dorothy.
Show Times: 3rd to 18th (not 12th) August 2018 at 12.40pm.
Tickets: £8 (£6). £20 Family.
Suitability: 12+