Image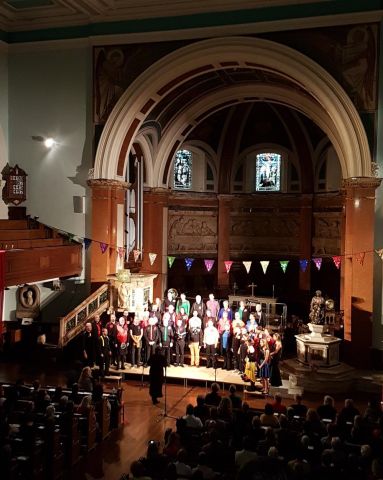 Company
Loud And Proud Choir
Production
Loud and Proud on the Fringe
Performers
Karen Dietz (director), Loud and Proud LGBT Choir
Scotland's LGBT choir, Loud and Proud, gave us a performance of some fifteen songs, all adapted by the group, at this entertaining performance in support of Waverley Care, Scotland's HIV and Hepatitis C charity.
It was a special concert for many reasons, not least since the choir were saying farewell to their Musical Director, Karen Dietz, who has led the choir since 2005. Tributes were paid to her inspirational leadership and patient encouragement, with mention of the occasional 'hairy eyeball' in seeking the very best her singers could muster!
The concert very much had a party feel to it – almost like a school leavers' service! – looking back over the past, and where the choir had come from, while very much celebrating the group's ongoing commitment to diversity and equality.
Karen's conducting of the choir was animated throughout – we knew who was in control! Always having chosen a Scottish song for every performance, tonight we had three; we also saw the return of the close harmony trio, clearly to the delight of the pretty packed venue.
The rendition of "Love is in the Air" was particularly well performed, and the choir clearly had great fun in singing it; "Oh What a World" was also noteworthy for some really polished harmonies. Other items in the performance were of questionable singing quality, and there were problems with the lighting for over half the performance; but how much did this matter?
This was a night that was about far more than the music alone. Members of the audience found "Over the Rainbow" particularly poignant, recalling its association with the height of the AIDS epidemic in the 1980s; "Seasons of Love" also invited us to measure the span of our lives not through the quantity of time but through the quality of love. The majority of the pieces were unashamedly upbeat, and sung with great gusto.
Anything lacking in technical accuracy in this show was more than compensated for by genuine feeling, sincerity, and justified self-belief. The concert concluded with a standing ovation from the audience, and the encore – appropriately – came from the Civil Rights movement: "I Wish I Knew How it Would Feel to be Free". The performance finished at 9.05pm.
Loud and Proud on the Fringe, Saturday 18th August, 7.30pm, St Cuthbert's