Image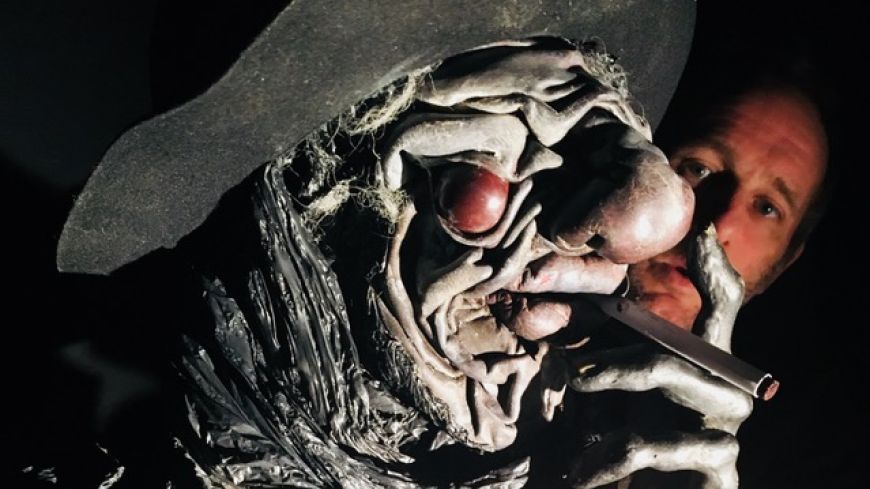 Company
Blind Summit in Association with il Funaro, Pistoia, Italy
Production
Mark Down (Artistic Director) Mark Down, Fiona Clift and Ruth Paton (Design), Mark Down, Fiona Clift and Nick Barnes (Puppet designers and makers), Carolyn Choa (Choreography), Hansjorrg Schmidt (Lighting Design)
Performers
Mark Down (Master Puppeteer), Fiona Clift and Tom Espiner (Puppeteers)



This year, London based master puppeteers, Blind Summit, bring their UK première of Henry: A Puppet Possessed, that was produced in association with the Italian Cultural Centre in Pistoia, il Funaro, to the Fringe.
Blind Summit is no stranger to Edinburgh, either at the Fringe or at Manipulate, where their trademark 'extreme puppetry' has garnered stars and awards galore with The Table and Citizen Puppet and their influence was wonderfully exerted in 2017 over Hijinx 's irreverent puppet tale, Meet Fred.
Master Puppeteer Mark Down's character paces the stage with a slight air of barely cloaked menace, inviting the audience to take their seats as part of a master class in 'puppetry possession' run by him. He is joined by puppeteers Fiona Clift and Tom Espiner who are masquerading as students but look more like a pair of black hooded executioners awaiting their victim.
Using little more than a few black bin bags, the ghost of Henry Chessel, classical actor and father of the Master, appears like a crumpled plastic version of the character Ronald Villiers from Chewin the Fat, with the constant refrain of "Let me go." The sadness of his reconciliation with the past and being haunted by his father doesn't stop Down's sarcastic humour bubbling up. The sense of watching a film being planned is helped by the playing of music from Philip Glass and some subtle choreography from Carolyn Choa.
Blind Summit has built its reputation on blasting away conventional ideas of what puppetry is about and here, Down retains the puppeteer's control without strings, rods or bits of manipulated hand cloth.
The show's running time of an hour is spent admiring the brilliance of this exercise in metafiction, that is a masterclass of physicality and mime; a subversive performance that's so polished it looks chaotic and has apparently 'been percolating for over 20years' in the mind of Mark Down.
However, with Henry: A Puppet Possessed, the philosophy of 'Extreme Puppetry' has been taken so far to the extreme that the actual puppetry that's held out as a promise never quite fully manifests. Result - clever as theatre but somewhat disappointing as puppetry.
11 to 26 August 2018 at 15.30 age recommend 12+