Image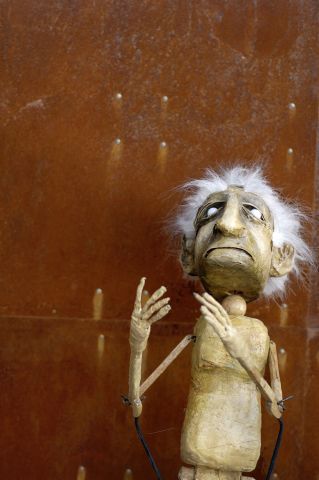 Company
CanadaHub and The Old Trout Puppet Workshop
Production
Pete Balkwill, Paul Bezaire, Don Brinsmead, Mitchell Craib, Nicolas Di Gaetano, P2 Kenderes, Bobby Hall Sam Hindlle, Viktor Lukawski, Judd Palmer, Stephen Pearce, Tim Sutherland (creators), Cimmeron Meyer (LX Designer), Mike Rinaldi (Sound Designer), Jen Gareau and Sarah Malik (Costume Designers)
Performers
Nicolas Di Gaetano, Teddy Ivanova, P2 Kenderes, Sebastian Kroon
Canada's Old Trout Puppet Workshop may work with small figures but they are absolute giants in the field of puppetry.
This show, Famous Puppet Death Scenes, that is part of the Canada Hub Fringe programme, does exactly what it says on the tin. From behind a gorgeous wooden 3- windowed puppet theatre made in sunburst art deco style, comes an array of scenes of demise from the world of puppetry such as Edward's Last Prance by Samuel Groanswallow, Why Am I So Sad by Sally, and a bit of German psychedelia with Bipsy's Mistake, from Bipsy and Mumu Go To the Zoo.
The morbid yet hilarious parade of scenes, each packed with inventiveness of the highest order, opens with a section from Nordo Frot 's The Feverish Heart that pumps across the surprising spectacle with ever arresting beats. The show's philosophical host, Nathanial Tweak, he of the Einsteinesque hair do, reverently reminds us that the figures we see are - 'no mere blocks of wood'.
The four puppeteers perform a kind of Brechtian puppetry where they barely attempt to be hidden, sporting Ill- fitting suits rather than the traditional shadow absorbing black. Sex between plastic toys; beautiful giant pop up books and big menacing babies are only a tiny part of the utterly unexpected that this show provides in spades.
Over the piece it is at once hilarious and grim and the interpretation of The Last Whale is genuinely moving. Prepare to be thoroughly entertained while looking the many aspects of death straight in the face yet being able to leave to the uplifting strains of That's Life.
This treacle dark puppetry is nothing short of glorious and reaches Edinburgh after touring across the US and Canada and Europe, offering an intriguing window into the wonderful world of Old Trout Puppet Workshop. An absolute must for puppet fans!
1-26 August (not 6, 13, 20 at 20:30 age recommend 16+