Image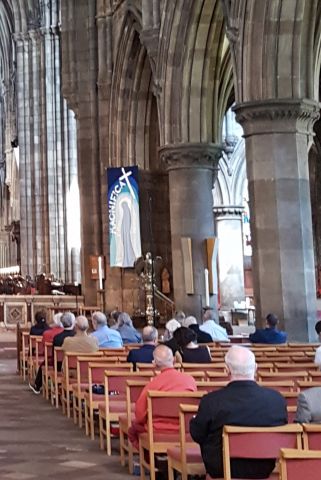 Company
St Mary's Cathedral
Production
Introit: Hymn to the Mother of God (Tavener) | Responses: Neary |Psalm 78 (Oakley, Turle, Crotch, Goss, Soaper) |Canticles: (Op. 69, Mendelssohn) |Anthem: Jauchzet dem Herrn alle welt (Mendelssohn) | Hymn: Sing we of the Blessed Mother (Abbots Leigh) | Voluntary: Messe de la Toussaint (Litaize)
Performers
Duncan Ferguson (Master of the Music), Rupert Jeffcoat (Organist), the Choir of St Mary's Cathedral
St Mary's Cathedral provided us with some excellent music for this celebration of the Assumption, or the 'Feast of St Mary'. The service was broadcast live on Radio 3, and so was structured in a highly organised manner, no doubt involving much planning and preparation.
Soothing organ music set the scene for the service, which formally began with Tavener's 'Hymn to the Mother of God' – notable for its ethereal quality as much as its intensity. Being set for double choir, the result was an astonishing sound of mystically blurred harmonies.
The Magnificat and Nunc Dimittis, and the Anthem (Psalm 100) – all set by Mendelssohn – were sung in German, and these versions may have been less well-known. The Canticles were composed shortly before Mendelssohn's death, but these in particular bear testament to the composer's versatility in writing for the Anglican liturgy. Both in Mendelssohn's mature composition and the choir's polished performance, we saw imaginative treatment of the verses; the doxologies especially embodying a restrained but refined reverence.
By virtue of the fact that the service was also a live radio broadcast, the organisers were clearly working to strict time constraints, and at several points this was evident. The Psalm (78) appointed for the day was unfortunately long, and so sung somewhat hurriedly; but a range of different chants were used to break it up – all in the tradition of the Anglican Psalter – and this served to add interesting variety and colour. The Collects were also intoned rather quickly, and one of the verses of the hymn had to be omitted.
A particular highlight of the service was being able to hear the fine flavours and textures of the Fr Willis organ – an instrument that deserves to be shown off in all its splendid glory. The professionalism of the choir was also exhibited and evidenced, and the readings too were delivered clearly and meaningfully. This was a fine if sometimes understated celebration of the church's festival, and the service finished at 4.20pm.
Cathedral Festival Evensong, Wednesday 15th August, 3.30pm, St Mary's Cathedral