Image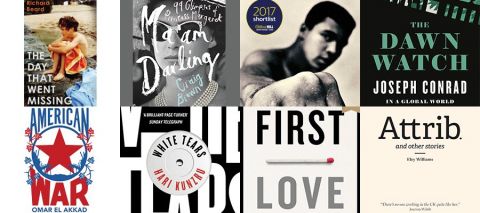 Performers
Sally Magnusson, Dr. Jonathan Wild, Dr. Alex Lawrie, Professor Peter Mathieson
These are the UK's oldest Literary Awards, founded in 1919 by Janet Coats, the widow of the publisher, James Tait Black to commemorate his love of good books. They are awarded annually by the University of Edinburgh's School of Literatures, Languages and Cultures.
More than 400 books submitted this year were read by Postgraduate students and Academics to select the shortlist of four Biographies and four works of fiction. The Awards ceremony took place at the Edinburgh Book Festival, most appropriately at the Spark Theatre – Muriel Spark won the Fiction prize for The Mandelbaum Gate in 1965.
Once again, Sally Magnusson chaired the proceedings with lively enthusiasm and insight, although it was rather a fast paced event, well under the hour, and perhaps readings from the authors or the two winners would have been welcome by the audience. First of all two Postgraduate Students explained how they read around 10 books a month, compiling reports and recommendations for the judges. For Biography they are looking for a well researched, engaging narrative, and the very best fiction being viewed as experimental, thoughtful and provocative.
Dr Jonathan Wild, the Judge for the Biography Prize then discussed the shortlist. The Day That Went Missing by Richard Beard relates the events of a family holiday when his 9 year old brother drowned, a story of haunting memories told with heartbreaking truth. Ma'am Darling by Craig Brown is subtitled 99 Glimpses of Princess Margaret, a selection of anecdotes and gossip, which Wild describes as a remarkable achievement, entertaining as well as capturing the world in which she lived, the Princess who could not marry the man she loved.
Ali, A Life by Jonathan Eig is the result of five years of research about the legendary Muhammad Ali, a refreshing look at his fights in the ring and for civil rights. Praise is given for The Dawn Watch, Joseph Conrad in a Global World by Maya Jasanoff, for its most timely study of racism and imperialism through Conrad's work as an historian, novelist and travel writer.
And then the Principal, Professor Mathieson stepping on stage to open the gold envelope, (marked B so there would be no Oscar Moment) and announced that the winner of the Biography Prize is Craig Brown. As a satirist and journalist, he was clearly surprised, saying that this was written as a "frivolous" book and he feels an imposter amongst this fellow writers.
The shortlist for Fiction is then covered by Dr. Alex Lawrie starting with American War a debut novel by Omar El Akkad set in a futuristic Civil War, 2074, told through the eyes of a young girl on her family's traumatic journey. White Tears by Hari Kunzru relates the pre-civil rights era against the background of the Mississippi blues.
A macabre, threatening and toxic relationship is central to First Love by Gwendoline Riley, written with crystal sharp precision and an ear for dialogue. Unusually for the Fiction shortlist, Attrib by Eley Williams is not a novel but a collection of short stories. Dr. Lawrie describes the writer's crackling verbal wordplay, freewheeling in its exuberant brilliance.
Professor Mathieson then announced the result of the Fiction Prize – Eley Williams who was also taken by surprise and delighted by this accolade. Eley Williams and Craig Brown each received a cheque for £10,000 and now join the prestigious list of previous winners.
2019 will be the centenary of the James Tait Black Memorial Prize and promises to be a special celebration of international literature.
The James Tait Black Prizes 2018
Ma'am Darling: 99 Glimpses of Princess Margaret by Craig Brown published by 4th Estate.
Attrib and other Stories by Eley Williams published by Influx Press.