Image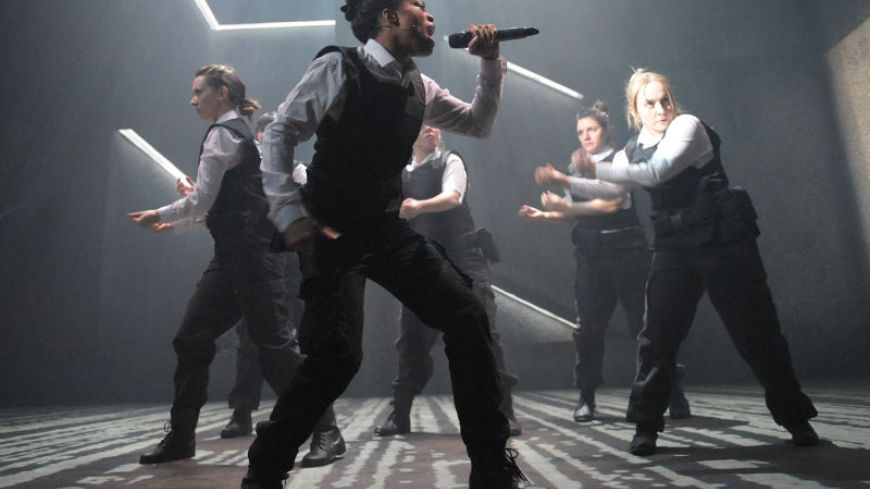 Company
Pachamama Productions, National Theatre of Scotland, Theatre Royal Stratford East & Regular Music present, in association with Citizens Theatre & Rich
Production
Cora Bissett (conceived for the stage and directed), David Greig (original book),Original score by MC Soom T, Patricia Panther, Cora Bissett and the Kielty brothers
Musical Director Gavin Whitworth | Musical Producer Michael Asante | Costumes & Set Jessica Brettle
Choreography Natasha Gilmour

Performers
Roanna Davidson, Callum Cuthbertson, Sophia Lewis, Stephanie Macgregor, Terry Neason, Patricia Panther, Shannon Swan and Kara Swinney
Glasgow Girls is an utter knockout from concept to execution.
Back in 1999, when a number of asylum seekers were housed in Glasgow, many of the teenagers ended up at Drumchapel High School. By 2005 Glasgow was 'home', with kids speaking the local lingo, supporting the local football teams and making firm friends in the local community.
So when the dawn raids started, with families disappearing overnight, led away in handcuffs, never to return, a group of seven feisty teenagers decided to do something about it and took on the Home Office and other dysfunctional authorities. They spoke in Parliament, they won awards for their campaigning, and collectively they became known as The Glasgow Girls. This is their story.
It starts as it means to go on. It's a smash-hit musical and the opening number is a punchy, catchy way to set the scene and get all the main characters introduced. Using the surprisingly versatile landscape of an urban playground presents plenty of interesting staging opportunities, none of which are missed by director Cora Bissett in this thoroughly switched-on piece. At times the subject matter really hits you hard, bringing tears to your eyes, before the dry, acerbic wit turns those tears to laughter. The writing, directing, acting and singing, from every member of this team, are all absolutely first class.
This is a complex and emotive subject and this show does not shy away from any of this, making sure a range of opinions about refugees and asylum seekers are aired. It also, without seeming to be 'educational', covers a lot of facts – from the countries currently offering the most support to those in need from other lands, to legal technicalities like the important difference between the British government's definition of 'safe' and that of the United Nations.
This is timely and important and sensational. Best show at the Fringe so far this year.
Show runs until 28th Aug (NOT 22nd)