Image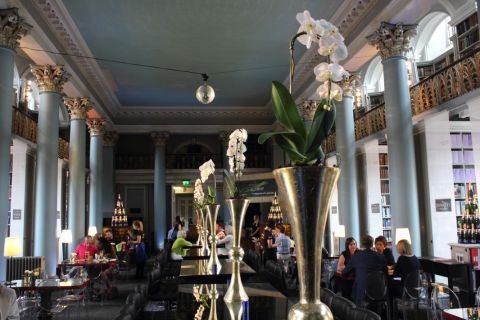 Performers
Sara Hicks (UK Ambassador Pommery Champagne)
The 'finest drawing room in Europe' as King George IV described The Signet Library, was the venue for a champagne tasting of various types of Pommery champagne.
The Pommery Champagne and Café Bar is only open until the 25th August, so if you want to be part of this marvellous experience then you have no time to waste! The location could not be better and the venue offers a haven of peace and quiet while being right in the thick of the Festival, just off the Royal Mile and down from Edinburgh Castle.
The Champagne Café Bar downstairs offers a range of excellent dishes to accompany your champagne - from gourmet burgers to fish platters, to even afternoon tea - so if you want to give yourself a real treat the menu is highly recommended (Read Viv's review of the Café Bar).
EdinburghGuide.com was fortunate enough to be invited to sample the Pommery Champagne Tasting in the ornate library upstairs, where we were given an excellent description of the making of Pommery Champagne by Sara Hicks who is the tremendously enthusiastic Commercial Director for the Company.
As waiters filled our glasses, Hicks led us through a lively and animated history of the Pommery estate, explaining in anecdotes and curious insights how Pommery has refined its bubbly-making process since widow Madame Pommery took over the estate in 1858.
Back then, Hicks informed us, champagne was "more about quantity, than quality," an equation Mme. Pommey sought to reverse. Three decades after taking the reins, according to Pommery mythology, Mme. Pommery had introduced the first commercial Brut champagne, so it was appropriate that we were treated to a splendid glass of Brut Royal Champagne to start with, while Sara continued to set the scene.
The Pommery recipe, like larger champagne brands, is a closely guarded secret, but Hicks explained how through judicious use of yeast, sugar, and three types of grapes, Pommery has finessed its lines into something that is distinctively light and zesty. It is also relatively low calorific: usually 10g of sugar is used per litre of Pommery.
We were introduced to the four seasonal champagnes - Summertime, Wintertime, Springtime and Falltime - all of which carry the Pommery name.
The first of the four taster glasses we were given was 'Summertime' which is a "Blanc de Blancs" and was sharper and slightly lighter in colour than the Brut Royal - this is explained by the greater percentage of Chardonnay grapes in the wine; it is certainly a lively wine and the freshness has a pleasant summer 'feel'.
In contrast the next taster was 'Wintertime' which was a blend of ten Pinot Noir and Pinot Meunier crus. One can imagine this champagne being served with a log fire burning in the grate and before a splendid gourmet meal. It is slightly more golden in colour and has a warm feel in the mouth.
On to our third taster which was a "Brut Rose" called 'Springtime', a delightful champagne which seemed to embody all the promise of spring. It is described as, "a relaxing experience" and I would agree. It is pale in colour and might remind one of 'a young woman without make up' - as Sara Hicks described the champagne.
Lastly was 'Falltime'- an extra dry "Blanc de Blancs". This champagne had considerably more sugar - 18 grams per litre compared to only ten grams for the other three champagnes tasted. But it gave a warmth of taste and was very fruity; it is certainly a champagne to savour during those shorter autumn days (a comforting, creamy "crowd-pleaser" is how Hicks aptly described it).
All in all this was a really fun outing, made very interesting by the comments and introductions to the taster champagnes given by Sara Hicks. It is an experience to be recommended!
So we have no hesitation in giving this venue five stars as something you really need to experience when visiting the Festival. There is a Pommery POP Shop also which you should visit before you leave the Signet Library; this has all the Champagnes that you have tasted and other goodies besides. As one of the Pommery fliers says, 'Fizz for one, fizz for all!'
The Pommery Cafe Bar is open daily from 12 noon until the end of The Fringe (25th August). Events include Champagne Afternoon Teas, Pommery Burger and Champagne Cocktail, tours of venue, and Chocolate, Whiskies and Cocktails tastings. For more information and vouchers visit Pommery's Food and Drink Events page.