Image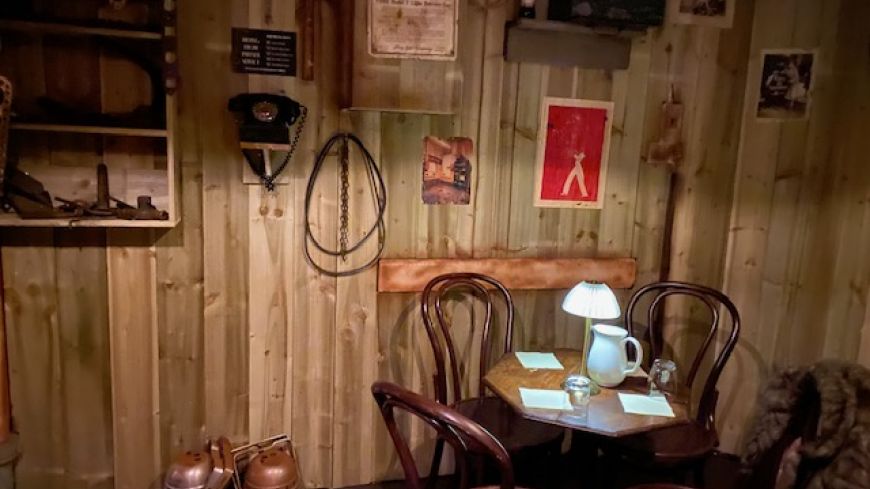 Company
Pickering's Gin and The Broody Hen Scotch Whisky
Production
Pickering's Gin and The Broody Hen Scotch Whisky
Performers
Ella Lindsay (Kate Meyrick / host)
Speakeasys have been around for a long time and there are a few in Edinburgh. It is fun to be part of a secret club and The Speakeasy Experience is a great way to find out more about the history of illegal alcohol brewing and selling, and about Scotland's individual history in this. Tucked away in a tiny corner of the maze that is Summerhall, is the Summerhall Distillery's own version.
The entertainment starts with the use of a secret code, secret knock and of course, a secret room. The tiny space is incredibly well done in terms of décor and atmosphere. You really feel that you have gone back in time when you step into this space. Host Kate Meyrick is the guide who leads us into the Speakeasy. The real-life Meyrick was known as 'Night Club Queen' in London of the 1920s, running illegal drinking dens and one of the 'IT girls' of the time.
While our host mixes up a couple of cocktails for the audience – a Southside and then a Rob Roy – we are given a history of illegal distilling and drinking over the centuries. Music from the 1920s plays on a record player and, while there is sound bleed-through from the shows within Summerhall itself, it still adds to the atmosphere. Beware of the cocktails – they are tasty but pack quite the punch.
This is a new event for the Distillery and it is clear that this has a lot of potential for growth and development in how the secret room Speakeasy can be adapted to different events. This is wonderfully entertaining and a great way to experience a non-traditional Fringe event.
Show Time: 15-27 August @ 19:00
Ticket Prices: £20
Summerhall – Summerhall Distillery
https://tickets.edfringe.com/whats-on/summerhall-distillery-the-speakeasy-experience
Photo by Angela Milton
Accessible entry: At the back of the Royal Dick Pub, a very small step takes you into the distillery. Wheelchair access type: Wheelchair accessible (please contact the venue for more information) Stairs: 1. Age: 18+ (Restriction)