Image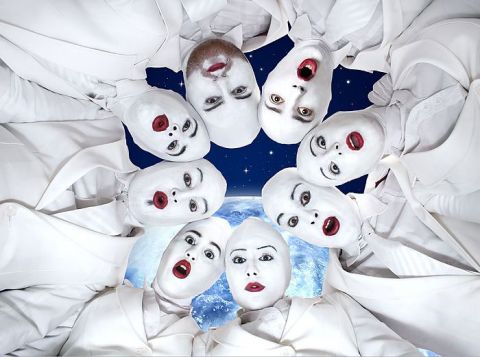 Production
Lior Kalfo (creator and director), Shai Fishman (composer, arranger, and musical director)
Performers
members of the Vocas
Spectacular singing and an upbeat comedic narrative make for a high-energy, uplifting theatrical experience.
Voca People are an a capella ensemble who use the premise of aliens visiting earth to whisk the audience through many of the English-speaking world's greatest hits. What elevates the show to the exceptional level is the super-tight singing combined with beat-box and a full range of instrument-mimicking vocal performances as the group ranges through classical instrumental as well as popular music.
The basic narrative of inter-cultural discovery opens up many comedic moments as the newcomers are immersed in Earth's popular culture, music, and passions (discovered through pseudo mind-melds). The song choices, too, will leave you smiling with amusement, nostalgia, and simple musical pleasure.
The audience is involved at various points, with individuals pulled on stage as well as group participation – just enough to raise the already-high energy levels.
Part of the fun throughout is identifying the musical selections as they fly by – aided in part by the theatrical re-enactments of key movie scenes, for instance.
This is a slick, fast-paced show that propels you to a blood-pumping finish, and the three encores, roaring applause and standing ovation made clear the audience's pleasure in the experience.
Aug 7-25 (not 12 or 19th), 18:00; £10.50-£16