Image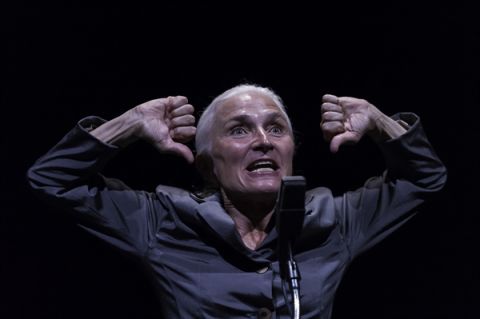 Company
theEmergencyRoom and Galway International Arts Festival, in association with Cusack Projects Limited
Production
Olwen Fouere (adaptor and director), Alma Kelliher (sound design), Stephen Dodd (lighting design)
On a bare stage on which two opposing rows of par cans rest, Olwen Fouere appears, simply dressed, ready to offer her interpretation of the voice of the river in James Joyce's 'Finnegan's Wake'.
This is clearly an act of considerable bravery. Despite the depth of Fouere's theatrical skills, this hour long piece would test the mettle of any actor almost to breaking point.
Fouere, of course, does not break, but bends her voice to the tenor and tone of Joyce's writing.
Not herself, as she admits, a reader of Joyce in the linear sense, Fouere nevertheless admires its complex language immensely, and her appreciation of its tonal and onomatopoeic qualities shines through her entire performance here.
As a performance, it is an unquestionable tour de force, provided by an actor at the height of her interpretive powers.
Joyce's richest alphabet (or should that be Alpha Bet?) soup contains ingredients long forgotten by man and some unknown to science – 'Calling all downs. Calling all downs to dayne. Array! Surrection. Eireweekere to wohld bludyn world…'
As Fouere herself puts it, 'it's an amazing journey to embark on… unbound by… all those fixed ideas that can tyrannise the boundaries of our imagination.'
Fouere bids us travel beyond those boundaries to places where word play, pun, analogy and intuition merge and meld to create spaces we never before dreamed existed.
'riverrun' is a hymn to embracing what we do not know and do not understand, to trusting what little we bring to the party and the discovery that it is enough. To be going on with at least, for humans are voracious creatures and can never have enough.
Fouere gives us plenty to be going on with, though. This is in all sense a tremendous piece of performance, not to be missed for that quality alone.
Traverse Theatre 3-24 August, times vary (see Fringe programme for details); £8-£19