Image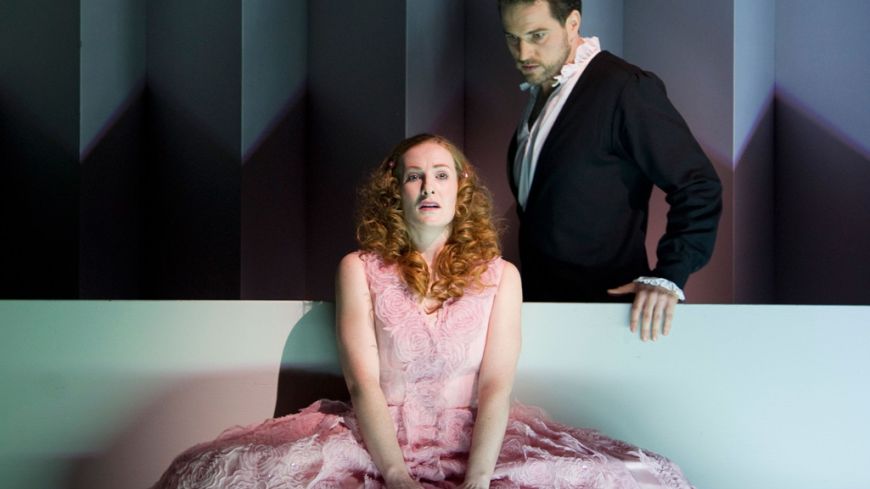 Company
EIF 2013 Oper Frankfurt Review
Production
Purcell, Dido & Aeneas; Bartok, Bluebeard's Castle
Performers
Dido: Paula Murrihy, Katerina Kasper, Elizabeth Reiter, Martin Wolfel, Roland Schneider, Dimitry Egorov, Peter Marsh, Sebastian Geyer; Bluebeard: Robert Hayward, Tania Ariana Baumgartner; Oper Frankfurt, conductor Constantino Carydis

Purcell's best known opera was given a radical new twist by Frankfurt Opera, who contracted three acts into one without sacrificing the plot.
Essentially serious in conception – an orchestral version of Dido's dying lament is played at the Cenotaph on Armistice Day – there are lighter moments at the outset. The inherent ribaldry of the first act was aptly captured (the unexpected appearance of a nude woman in the chorus may have helped) and the expertly choreographed rollicking of the chorus caused much amusement in the audience.
Menace came swiftly from the sorceress and the two witches, admirably sung by three counter-tenors in drag. At times however the menace was lost in some almost pantomimic capers.
Sebastian Geyer and Paula Murrihy could not be faulted for their performance as the doomed lovers. Geyer was fervent as a lover, torn by indecision at the fake message from the Gods that he must leave Dido, and reluctantly returns to his duty. Murrihy, as Dido was alternately doubtful and loving. Distraught and solitary when Aeneas deserts her, she commits suicide.
Her beautifully sung, lengthy dying lament and long-drawn sighs and gasps of pain made a dramatic finale. Drama was increased by the slow but steady departure of musicians from the orchestra and death came as the last violinist exited.
Bluebeard's Castle was an emotion-packed performance by two first-rate singers. The psychological doubts of both the Duke and Judith were emphasised by Bartok's powerful, portentous music. The actual staging at times detracted from the drama.
The rotating stage, with the serial appearance of three wordless, largely immobile men and then three women was a meaningless addition to a duel of wills between the Duke and Judith, his latest wife. The factory- like backdrop to the stage was incongruous and the absence of the seven doors Judith was insistent on opening a fatal error.
For regular festival-goers there was an unavoidable remembrance of the Canadian production of Bluebeard nearly 10 ago which won the Hamada prize for the best Festival production.
Event: Saturday 24 August at 7.15pm