Image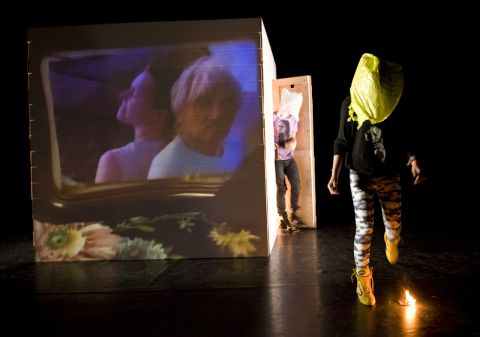 Company
Ontroerend Goed with Drum Theatre Plymouth and Richard Jordan Productions
Production
Alexander Devriendt (script and director), Joeri Smet (script)
Performers
Jorge de Geest, Edouard Devriendt, Alice Dooreman, Ian Ghysels, Marthe Hoet, Nanouk Lemmerling, Koba Ryckewaart, Verona Verbaki
There's a potentially promising start to Teenage Riot, as a series of images are projected onto the cubic structure set centre stage. Everyday objects introduce themselves – "Hello, I'm a post-it" and so on – and on. The joke becomes tedious while the point, that we pigeon-hole others, while desperately seeking identities and justifications for our existence, is somehow lost.
Sadly that's not all that's lost in Ontroerend Goed's admittedly ingenious attempt to portray the lives of the Yoof of today. Fragmented attempts to present fragmented lives, however, need a bit more structuring than seems to have taken place here. From the "Hello, I'm (becoming too extended a joke)" phase, we move to some clever video footage, once again projected onto the sides of aforementioned cube, now the den of a group of fairly feral - or so we might believe - young people.
All somewhat reminiscent of an Art College graduation piece, the re-statements of young people under peer, sexual, parental and other pressures, could have come from the launch of any report on "the youth of today" over the last couple of decades. This criticism might reasonably be dismissed as fifty-something reaction, but in truth there was little to react to and even less to violently disagree with over the entire length of Ontroerend Goed's show.
With no named characters, and only fleeting appearances by the cast from their cuboid shelter, opportunities for the audience to engage were somewhat limited. Which, it could be argued, is a deliberate element of the piece. When the subject is, in part, disengagement however, to merely indicate does not feel to be enough.
Technically accomplished, Teenage Riot seems to quickly lose its way and end up in a cul-de-sac of cliché when both subject matter and resources deserve better. Ontroerend Goed were established to heighten the communicative power of poetry. Perhaps re-connecting with that impulse would produce more interesting and exciting fare than this.
Show times
Till 28 August (not Monday), times vary see Fringe programme for details
Ticket Prices
£17-£19 (£6-£13)