Image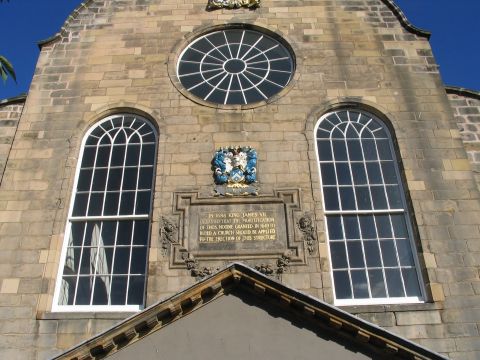 Company
Rose Street Ensemble
Production
James Lowe (conductor)
Performers
Judy Dennis (alto), Simon Smith (piano). Emma Morwood (soprano), Robin Hutt (piano), Crawford Logan (actor)
James Lowe conducted a concert of songs and string works from three composers who had to emigrate from their homeland because of political turmoil: Hans Gál from Germany, Sergei Rachmaninoff from Russia and Béla Bartok from Hungary. Between the music we heard, in their own words, what their displacement meant to them.
After hearing the entirely comfortable four movements of Hans Gál's Serenade for Strings, Op. 46, the actor, Crawford Logan, described for us from the lesser pulpit the agonies of the composer's displacement from Germany to Edinburgh and his horror in June 1940, just after the capture of the 51st Highland Division at St Valery when Rommel was expected to continue on across the Channel, of the police arriving at his door. He was imprisoned at Donaldson's Hospital along with many others in his position. We can be grateful that after the war Gál settled into the music world of Edinburgh and indeed helped start the Festival. The pleasing alto voice of Judy Dennis sang Gál's Five songs for middle voice and piano, Op. 33
We were told that Sergei Rachmaninoff had to flee from the 1917 Russian Revolution and went to the United States. The vibrant soprano, Emma Morwood, gave us four of the songs from Rachmaninoff's Songs, Op. 34, No s 1, 5, 8, & 14. and the twenty seven strings of the Rose Street Ensemble played his very Russian styled Romance and Scherzo, from String Quartet No.1.
After the interval Judy Dennis sang five of Bartok's Eight Hungarian Folk Songs, Op. BB47, No s 1,2,3,7,& 8. We learned how Béla Bartok reluctantly left Hungary in 1940 for New York but he never really settled into the American way of life. The concert closed with some angrier music; the three movements of Bartok's Divertimento for Strings, Op. BB118, familiar because of its use of pizzicato by the lower strings.
The War Child charity was the beneficiary of an entertaining and educational concert.
Event: Saturday 12 September 2009