Image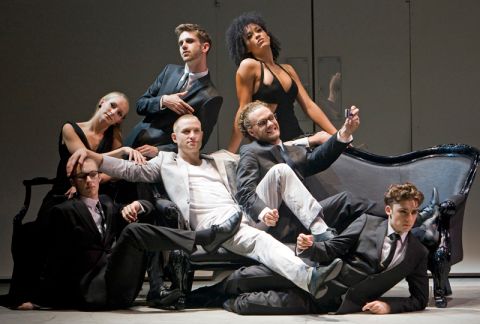 Production
Matthew Bourne (director and choreographer), Lez Brotherston (set and costumer designer), Terry Davies (composer), Paule Constable (lighting designer), Mark Grimmer for Fifty Nine Productions (video design), Paul Groothuis (sound design), Scott Ambler and Etta Murfitt (associate directors)
Performers
Richard Winsor (Dorian Gray), Michela Meazza (Lady H), Aaron Sillis (Basil Hallward), Christopher Marney (Cyril Vane), Jared Hageman (Doppelganger), Ashley Bain (Edward Black), Drew McOnie, Ebony Molina, Joe Walkling, Shaun Walters, Chloe Wilkinson
Oscar Wilde's 1890 novel The Picture of Dorian Gray is a tale of the obsessive need to remain youthful and how a soul can be corrupted when that person no longer accepts the disfigurement of the aging process. It is a theme that mirrors our own times, which is why the celebrated choreographer Matthew Bourne has set the piece in the 21st century.
Working in collaboration with set and costume designer Lez Brotherston, Bourne's dark piece revolves around the powerful and often superficial world of celebrity, where mediocre personalities can be transformed into icons, with at times devastating consequences. And Dorian, hungry for success, but unable to accept the aging process, is transformed from an innocent into a sadistic killer.
The production begins with the razzmatazz of a fashion shoot. Basil (the painter in the novel) is now an iconic fashion photographer. With gender switches, Lord Henry becomes Lady H - the powerful corrupting influence who transforms Dorian's beautiful face into the face "du jour." His image, selling "Immortal" perfume "pour homme" is everywhere. A national icon, he starts to lead a wild, hedonistic lifestyle - an erotic relationship with Basil, a convenient one with Lady H. Inevitably, though, it all falls apart and his narcissistic soul becomes corrupted by his doppelganger.
Dorian Gray is a very powerful show - indeed power, and the abuse of it, is the overriding theme. Bourne's choreographic pace is relentless. Brotherston's revolving set - with swing doors in the middle - effortlessly fluctuates from fashion shoots to bedroom, club and boardroom scenes. And Terry Davies' music pulsates throughout.
The dancers forcibly portray the characters. Richard Winsor, as Dorian Gray, imbues all the narcissistic posturing arrogance of this figure doomed to self-destruction. Michela Meazza, as Lady H, is a perfect portrayal of a ruthless executive. And Aaron Sillis, as Basil, makes a perfect foil for Dorian. The dancing - particularly in the seduction scene with Dorian and Basil - is dynamic, and the stage sets are utterly engaging. Black and white shadows eerily pervaded the performance, as if foretelling doom. The macabre, sensationalist ending is a cautionary tale for our times.
Times: Aug 22-30 at 20:00, plus 14:30 on Aug 30