Image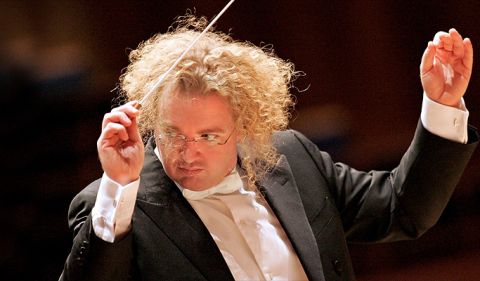 Company
Royal Scottish National Orchestra, Stephane Deneve (conductor); Edinburgh Festival Chorus, Christopher Bell (chorus master)
Production
Arthur Honegger (dramatic oratorio)
Performers
Geraldine McGreevy, KarenCargil, Yonn Beuron, Sylvia Berge, Seamus Herron, Andrzej Seweryn Edinburgh Festival Chorus, chorus master Christopher Bell
Variously described as a dramatic psalm or an oratorio, this powerful exposition of the life of the biblical king came into being as the incidental music for a play. Re-worked as a concert piece a couple of years later, it is episodic but still coherent and intelligible. The style of composition and unusual touches of orchestration and choice of instruments seemed formulated to conjure up mental images in the listener. The insistent beat and blaring trumpets in Part 1 made it easy to visualise the approach of a powerful Philistine army.
Honegger reduced the cast of actors to a handful of singers and a narrator. The chorus has a more prominent role than normal, with specific sections - lamenting females and prophetic tenors for instance - having parts that could well have been for soloists. The music was obviously close to the heart of RSNO music director Stephane Deneve. He conducted enthusiastically, with delicacy where necessary, and his obvious rapport with the large orchestra produced excellent playing.
The text was biblical in origin, naturally drawing much from the Psalms of David. It was perhaps unfortunate for some of the audience that the work was sung in French. The en regard English translation in the programme included well-known phrases - such as "Tell it not in Gath" - which could have had more immediate impact.
The strenuous narration linking key episodes was an impressive sustained performance by Andrew Seweryn which imbued the spoken words with passion and emotion. Equally, if not more impressive, was actress Sylvia Berge, whose eldritch incantations as the Witch of Endor had dramatic impact in the other speaking role. In the principal singing roles, soprano Geraldine McGreevy (a last minute replacement for the indisposed Angela Denoke), mezzo Karen Cargill and tenor Yann Beuron, managed difficult phrasing and timing with seeming ease.
High commendation also for Portobello High School pupil Seamus Herron. Not just for the clarity of his treble as the Boy David, but also for the calm way he sat front of stage without fidgeting or looking bored for more than an hour after the opening number! The musical honours in the end, though, must go to the Edinburgh Festival Chorus. At full strength, filling the organ gallery, they were a major factor in a resounding success.
Concert August 18 at 20:00
Copyright Iain Gilmour August 2008