Image
Image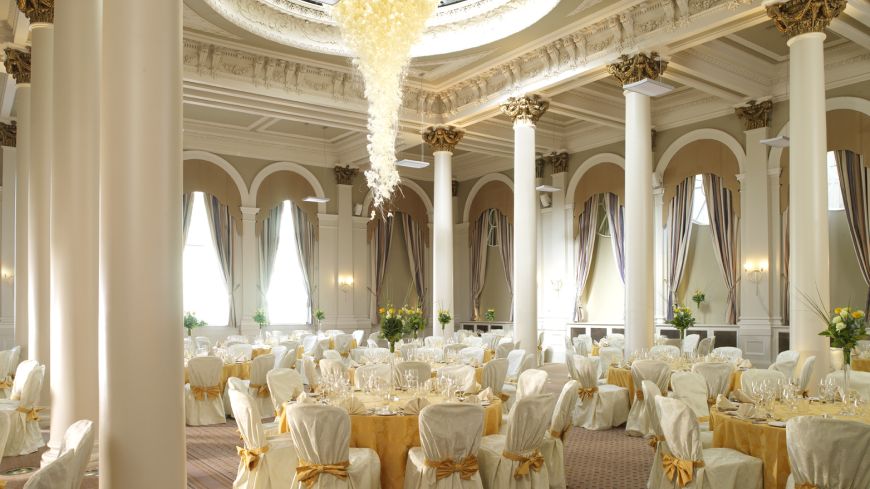 Street
19-21 George Street
Telephone (info)
+44 131 225 1251 (Reservations)
A four-star hotel in a central New Town location on Edinburgh's George Street, the George (as it's sometimes known to locals) is one of Edinburgh's most established hotels with around 250 rooms.
Originally constructed in 1780 as five townhouses at 15 to 25 George Street, the first hotel appeared at numbers 21 and 23 George Street in 1860, gradually expanding to cover the upper levels of the buildings as well. It became known as The George from 1881.
One of the hotel's neighbours was the Caledonian Insurance Company which had its headquarters in the neighbouring buildings. This included 19 George Street which had been remodelled by architect David Bryce in 1840 to create the grand entrance to the hotel that you find today, with its neo-classical pillars.
The Caledonian Insurance Company eventually sold its premises to The George Hotel in 1939 and following the war the expanded hotel opened in 1950. 
Over the years, The George has had extensions added and renovations completed, but the listed building still maintains its Georgian elegance and character.
A prime example, inside the building, being Caledonian Insurance Company's banking hall with its cupola and tall, pillars that has been converted into a ballroom called The King's Hall.
The hotel has a total of eight private meeting rooms for hire. 
The Twenties-styled Printing Press Restaurant adjacent to the hotel closed on Sunday 19th March 2023.
The George is also home to the Burr & Co coffee shop, carrying homemade cakes, pastries and sandwiches.